Dropping kids off in a church nursery or children's ministry for the first time often makes families feel anxious, especially when visiting a new church.
Kids can understandably have a tough time when separated from their parents (and they probably aren't afraid to show it). Parents may be more stoic, but chances are they're also a bit uneasy about leaving their kids somewhere new for the first time. It's your church's job to give them what they need: peace of mind. How? Don't tell them, show them!
Thankfully, there are ways you can immediately set parents and kids at ease. Read on to find out what parents want to see from your children's ministry, as well as some ideas for children's church for a small church.
Have an informative website
This is an easy first step at setting parents' minds at ease. A designated spot for children's ministry on your website helps them know what to expect before they ever set foot in your church. Here are some ideas of information to list:
Childcare options for each age range.
If children participate in the main service at all.
Where to find the children's area once they arrive.
Details on the check-in process.
A short bio of your children's ministry director, and perhaps your teachers.
These few pieces of information help parents know ahead of time that there is a safe place for their children to learn about Jesus. They'll arrive at your church with a little more confidence!
A warm welcome
When a new family arrives at your church, are they greeted by kind, competent staff or volunteers? Are the greeters knowledgeable about available childcare options? Are they willing to take families to the appropriate room and introduce them to the teacher?
This small touch will help put families at ease as they navigate a new space for the first time. A warm smile and helping hand will go far!
An efficient check-in process
What is your children's ministry check-in process like? Even small churches need an official way to sign in children, and a way to notify parents if their child should need them during the service. No matter your church size, it might be nice to have a welcome sheet for first-timers. Here are a few ideas for what this could include:
Check-in info
Pick-up info
Notifications during service
Upcoming children's events
The volunteer(s) managing the check-in process should be able to answer any questions families have. They need to be able to put parents at ease about the safety and security of your church's children's ministry, too. If necessary, they should direct parents to the right classroom and introduce them to the child's teacher.
At smaller churches, we know the classroom teacher may be managing the check-in process for their individual class. That's great! That gives him or her the chance to personally welcome the child and the parents.
Speaking of your teachers…do your best to recruit people who are genuinely passionate about children and helping them know Jesus! We know it's tough to find volunteers for children's ministry, but if possible make sure you have people who are truly invested in what they're doing. It makes a difference both parents and kids will notice!
Is it safe and secure?
We mentioned this before, but it's worth emphasizing. Parents want to see you've put thought and care into ensuring your children's ministry area is safe and secure (especially if they're unfamiliar with your church).
Here are a few things to consider:
Is there more than one volunteer in each classroom? Have at least one adult teacher and one helper.
Have all childcare workers had clean background checks? This is standard for any roles that require close work with children.
Are all staff and volunteers wearing official name tags or badges?
Is the environment secure? Make sure there aren't any ways for kids to slip out of their classrooms unnoticed!
Are the rooms child-proof? This is especially important for babies and toddlers. Make sure to cover electrical outlets, pad sharp corners, and remove choking hazards.
A clean, bright space
Parents really want to see that you've created a happy, inviting space for their kids. We know kids are prone to making messes, but it helps to make sure your children's ministry space is sparkling clean on Sunday mornings. It shows you're putting thought and care into the small things, which helps parents know you're doing the same for everything else in your children's ministry.
Is your space designed to be a fun place for kids to come and learn about Jesus? Your children's ministry space should be appealing to kids! You want them to be excited to arrive and eager to stay. Even if your church has a limited budget to spend on your children's area, you can make some easy, affordable updates that will put a smile on kids' faces!
A balance of fun and structure
We all know kids love to have fun! If they're enthusiastic about their time in your children's ministry, they'll definitely tell their parents about it. Parents place a high priority on their children's spiritual development. If they know their kids are having fun while learning about Jesus, they're much more likely to come back to your church.
That said, it helps to have some level of structure in your children's ministry. Is there a regular rhythm and routine in your classes? Do you start with songs, move on to a lesson, then have a craft and snacks? Or, does it reflect a babysitting environment where kids play with toys while mom and dad are in big church? The best teachers know how to strike a balance between the two. Structure is great, but so are the moments of spontaneous joy that kids so often bring!
It's also worth thinking of ways your church can support and equip parents outside of Sunday services. After all, parents are the primary influencers on their kids' spiritual formation. Many would likely welcome guidance on how to continue teaching their children about Christ throughout the week, especially if they didn't grow up in church themselves.
Conclusion
We know most churches put a lot of time and care into creating wonderful children's ministries. Even so, it's helpful to step back every now and then to reassess your process and make sure it's still serving children and families well. Use these ideas as a checklist for your unique children's ministry and go from there!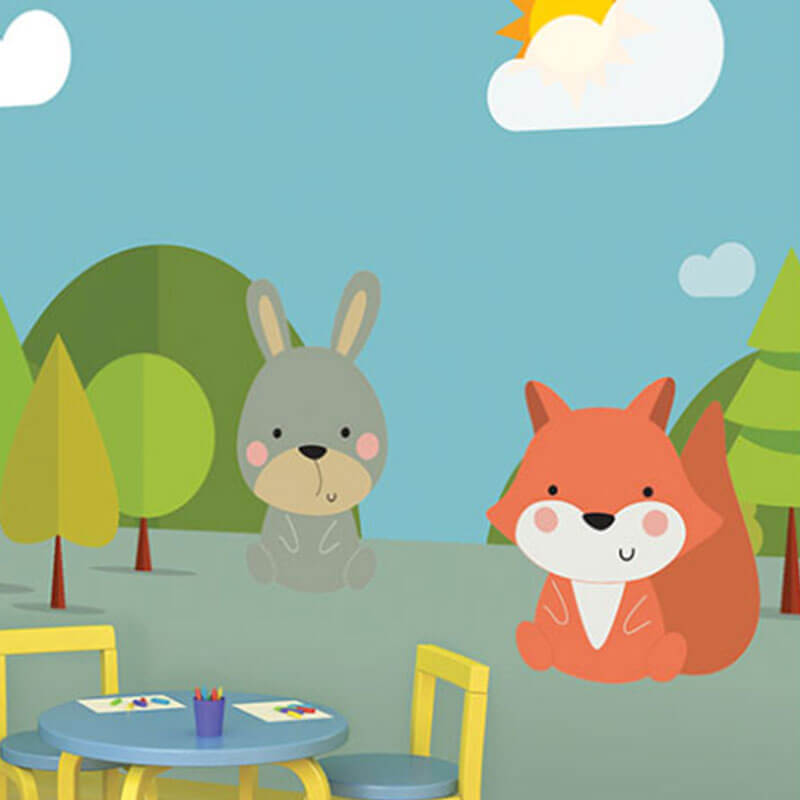 Transform Your Children's Ministry Area
Browse inexpensive and delightful wall art and banners for transforming your children's ministry.