Over the past year, churches across the country have thought of many new ways to hold safe Sunday services. One of the best of these ideas is holding services outdoors. As we round the corner to our second COVID Easter, it's even more important to find ways to meet in person. An outdoor service provides your church with many advantages:
You'll have all the space you need to maintain social distancing.

It's easy to stay out of confined spaces and in the fresh air.

There's no need to wear a mask (depending on local restrictions).

You don't have to worry about disinfecting and sanitizing every surface indoors.

Parent's can keep their children with them and not worry about them making too much noise or moving around too much.
Location, Location, Location
Most churches that are meeting outside are either holding services with outside seating or offering a drive-in service or a combination of both. Depending on your location, you can plan your services in the parking lot, an outside patio, or in a field or grassy area. 
If you're short on space or in an urban area you may want to look into using a local school or park as an option to hold a special Easter Outdoor Service.
No matter where you choose to hold your outdoor service,  read through these tips and tricks to get some ideas for planning a service that can have the most Kingdom impact this Easter.
1. Have People Reserve Free Tickets
Regardless of the size of your outdoor area, you will most likely only be able to host a specific number of cars, chairs or both. To ensure you don't have to turn someone away, have people RSVP and receive a free ticket.
In order to know how many tickets to make available, survey your parking lot, grassy field, patio or wherever you plan on holding your outdoor service. Spend some time measuring out the appropriate distances between attendees and calculate the maximum number of people you think could fit.
It's less important to completely fill this number than it is to confirm that you won't exceed it. Tickets will also allow you and your church planners to know exactly how many people will be attending and plan according to a specific number. Be sure to leave space for visitors who do not know about the reservation system. Here's an example of what your layout design could look like: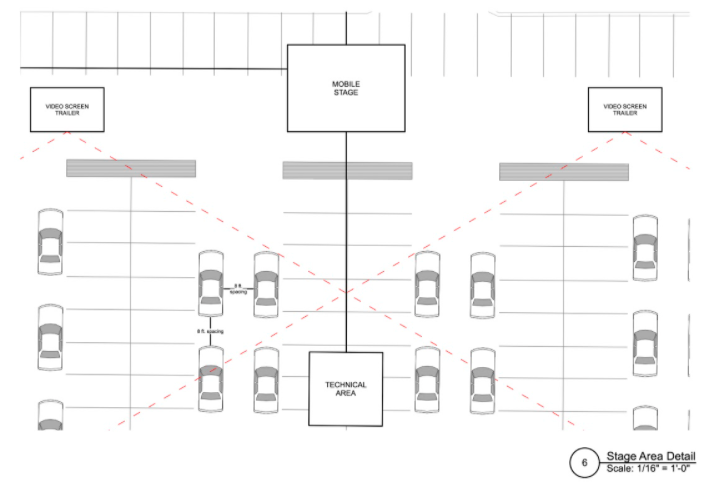 Along with the ticketing system, it can be very helpful to still offer a live stream option for those who aren't comfortable leaving their homes, or are unable to get a ticket for the time they want. We will discuss ways to make an outdoor live stream more possible later on.
2. Have a Great Parking Team That Can Help Direct People
One of the things that can easily detract from the message of the service is frustration from having to deal with a traffic jam or difficulty finding a spot to sit. On top of that, if people are leaving or driving around mid service, it can quickly become a distraction for other attendees. Select a few people from the congregation to be on the Traffic/Parking Team. Have them direct people to the right spots and avoid all the confusion. Similar to an indoor service, try to fill the spots near the stage first so that if anyone arrives late they will be less of a distraction in the back.
If holding a drive-in service, it would be a good idea to have a clear path for cars to follow when they arrive and when they depart. One easy way to accomplish this is by having a system of street signs set up for cars to follow, in addition to the traffic team.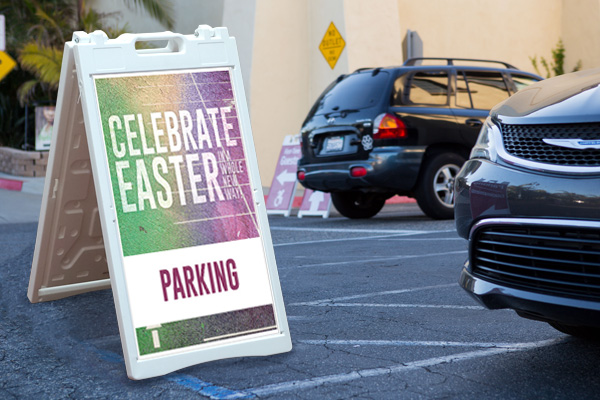 Don't be afraid to use your parking lot or outdoor area to your advantage. Lining up cars however works best for you, it doesn't have to be along the usual parking lot markers. If there are concrete islands or light posts that get in the way, work around it by possibly changing the direction of the stage. Let visitors know the best path by directing them using street signs, feather flags or handheld signs.
3. Make it Personal by Having Greeters Walking Around the Parking Lot
One of the hardest things about outdoor services is that it can feel very isolating to have to remain in your own car the whole time. Try to reduce this by having your greeters and some of your friendliest members walking around, handing out bulletins, answering questions or directing people to online resources (or the restrooms).
An easy way to be personable while socially distanced is by having a smiling face holding a hand held sign that visitors can easily read from a distance. Let visitors know how glad you are to have them there, how much you've missed seeing them in person, or anything else you would like to say! These hand held signs are completely customizable.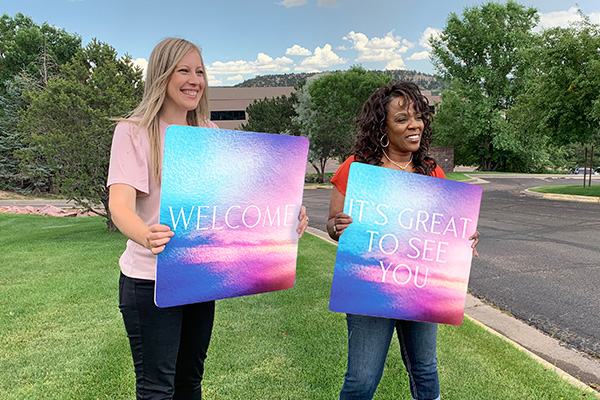 If you're holding a Drive-in service or combination, make the atmosphere more festive by encouraging families with SUVs and minivans to "tailgate"- parking with the back of the car facing the stage and opening it up for the whole family to sit in the back. Families can even bring toys, blankets, and snacks for the kids during the service.
4. Get Your Gear Sorted With Plenty of Time
There is a lot of technology that goes into making an outdoor service doable. Especially if your church has decided to try to live stream the service as well. Avoid technical difficulties by allowing plenty of time for equipment to be double and triple checked before the service. 
One of the first churches to start holding outdoor services last April, Cherry Hills Community Church in Denver, Colorado. The team there recommends that you run your video and sound back into the church via fiber optic cables. This will allow you to use the equipment that you already have without needing to rent new expensive gear, plus everyone will already be comfortable with the technology, graphics, and sound gear they are familiar with.
5. Spread the Word by Promoting Your Services on Social Media and Push the Congregation to Spread the Word
Increase attendance at each service by effectively getting the word out! Use social media, emails, newsletters, and physical invitations to promote your services. Make sure it's easy to find rsvp links on your website and emails, and avoid confusion by making it one of the first things people see. For example instead of saying "join us for our outdoor service" say, "get your free ticket to our first ever outdoor service!".
Better yet, set up a special page JUST for your Easter event with all the pertinent details like times, reservation links, COVID policies etc… and use that page as your link from any promotions you do online or in emails.
One of the best ways to raise awareness for your services is through word of mouth. In the weeks before your outdoor service, encourage your congregation to invite family, friends, neighbors, etc.. For some of the more at-risk populations, an outdoor service like this could be one of the first events safe enough to attend, so don't let them miss out! You can also equip your members with small invitations that they can give to friends, neighbors and even service people like waitresses and grocery clerks.
Once you have an outdoor service plan, keep offering this option during the warmer months. You may not want ALL your services outside, but as Summer approaches think about offering an outdoor or drive-in option regularly for those who are not comfortable indoors yet. Many of your visitors may enjoy the fresh air and more casual atmosphere, parents may be more comfortable keeping the kids close rather than having them in a different room and it cuts down on the cleaning and sanitizing for your janitorial team.
No matter how you decide to approach it, an outdoor service could be a huge turning point for your church, bringing in new visitors and reconnecting with your congregation. There is a high level of effort and time that goes into making one happen, but it's more than worth it to see the fruit that comes from pouring into God's Kingdom.
We would love to see your outdoor set ups! Please join the Outreach Facebook group and share your thoughts, ideas and pictures with us!