Studies show that a personal invitation to church is the most effective way to get someone to visit. But getting your church attenders to actually invite someone can be harder than getting your 4-year-old to eat lima beans. One way to improve your member engagement is by providing your people with fun tools they need to be inviters – like attractive, easy-to-use invitations that they will want to hand out.
With the new online editor a Outreach.com it's a lot easier (and inexpensive) to get custom printed invitations for any event or ministry in your church. On the website, you can find an invitation, custom design it online (no professional needed) and have it printed and delivered in just a few days!  Plus there are new, attention-grabbing shapes like squares and circles that are really popular right now, and will be sure to get handed out.
Here are the 9 most popular invitation designs you can order and customize TODAY!
New Square Invitations
These 4" x 4" InviteCards are the perfect way to catch people's eye! Your members will be excited to share these with friends, neighbors, coworkers – even strangers!
Top Designs Include:
---
New Circle Invitations
These 4" circles will have your  church members feeling empowered to invite people to your event – or even just your regular weekend service!
Top Designs Include: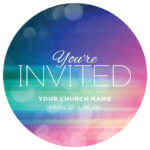 ---
Medium Rectangle InviteCards
Slightly larger than a traditional playing card, these traditional invitations fit in a wallet or purse making it easy to carry around.
Top Designs Include: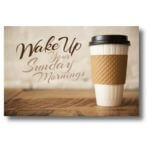 So, get creative and design invitations for your children's ministry, sermon series, Back to Church Sunday event or just as a general invitation you can use all year long! You may yet turn your members into super inviters!
##