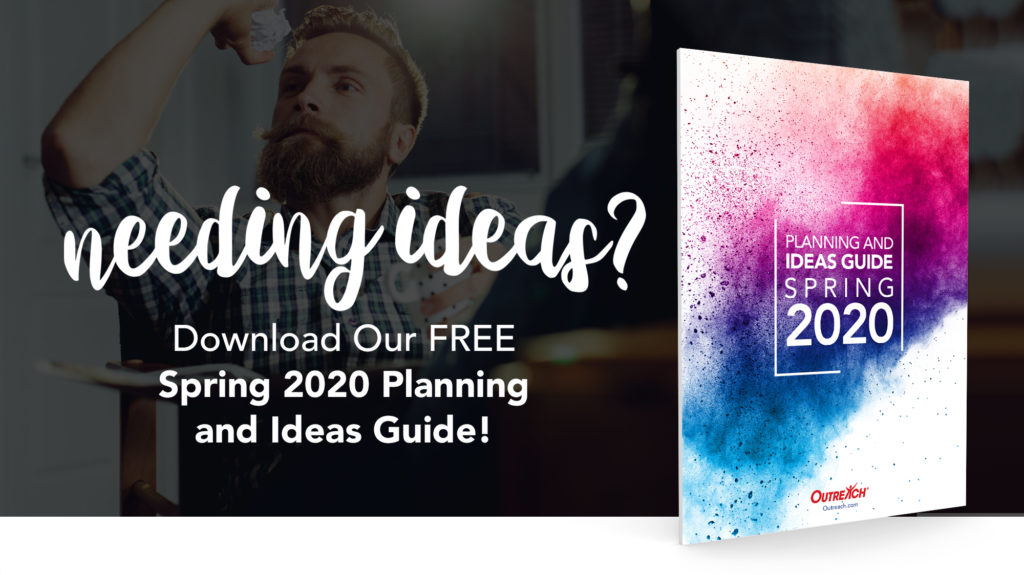 This blog is excerpted from the Spring 2020 Planning and Ideas Guide – Click here to download the entire resource. 
The New Year has started and Spring is fast approaching – now you need to reach out to your community. Once you have identified and scheduled your Spring church outreach opportunities, it's time to get down to work on HOW to spread the news, invite your community to church  and then welcome them. You probably already have a list of invitation tools you use, but maybe it's time to try something new or to up your member engagement. We realize budget issues are real so the list below includes FREE, inexpensive and all-inclusive ideas, something for everyone.
Get your Church Involved.
Evangelism can be a challenge for the average church attendee – no one wants to be rejected or feel awkward around friends and neighbors. But if you provide the right resources, professional looking invitations, compelling booklets, and ask members to deliver an invitation – not an entire 4 spiritual laws presentation – you may be surprised how your church gets behind the idea. Here are some easy-to-use tools to help get you started: 
Empower your regular attenders to start spiritual conversations with their neighbors, coworkers and friends using compelling Engager Invitations. This free resource provided by Every Home for Christ is a modern-day tract that shares the gospel. There is room on the back to include your church information and there is a DoorHanger companion you can use to leave these pamphlets on houses. Engager Invitations are FREE –

Click here

to learn more.

Plan a community

Doorhanger outreach

– ask small groups, Sunday school classes, youth groups to come together on a Saturday. Have a map of nearby neighborhoods, and send teams out to distribute Doorhanger invitations to homes. Have team members pray for each home and if they meet the homeowner, ask if there is anything they can specifically pray for. To make it more fun, get volunteer T-shirts for the teams to wear. 

Get children and their families involved with inviting people to Easter services. Get a large supply of plastic eggs and fill them with candy. Give each family 5-10 eggs along with personal invitation cards – ask them to take the eggs to the houses on their street or to their friends at school. 

Have church members ask local businesses and senior or community centers to put up a poster promoting your Easter service or other special event.
Your church website, Facebook and Instagram are vital tools that provide you with greater reach at a lower cost. Your church outreach plans should always have a digital component -and these days it doesn't have to be complicated. Here are some ways you can put digital tools to work for your church:
Use your own church Facebook/Insta pages to start conversations, share event information and help potential visitors get a feel for the culture of your church. Use video and photos and ask your church members to share your posts with their friends. Set up an Event for your Holy Week Events and encourage people to share it. 

Facebook Ads are a great way to extend your reach and invite people who do NOT follow your church to an event. Services like Outreach Facebook Ads  make it easy to set up an ad campaign and reach everyone in your community on social media. Follow up your ad campaign and keep your community engaged with your facebook/twitter with Outreach Social. Save time and money with auto-posting to Facebook and Twitter, and access to a growing graphics library of 1600+ ready to use posts. Outreach weekly subscribers can now receive 30 days for FREE with promo code rsj5HwL7.


Create special event pages on your church website to make it easy for people to learn more about your services and what visitors can expect when they come to your church. Use this special landing page as your link in social posts so site visitors can get the info they need fast.

Join Nextdoor and other community groups online and share about your events on those sites to help spread the word. Egg Hunts and community events will get better response on these types of sites then regular Sunday events will.
In addition to personal and digital invitations, the more traditional methods are still tried and true. And when you combine these options with the other two methods, you are creating a truly powerful multiple-impression plan that will ensure people feel wanted. So don't forget about the "classics":
No matter how many other methods you use, the most cost-effective way to reach thousands of families in your community is through

Direct Mail

. In fact, traditional mail remains a strong influencer even among younger audiences. Everyone in the US receives mail and the tangible, keep-able aspects of a good mail piece grab attention and often end up with strong "staying power". With a non-profit postal permit, you can reach 5000 homes in your community for less than 30 cents a postcard!

Learn more about Direct Mail here


As an add-on to a traditional mailing, the new

Outreach Everywhere

service pairs your postcard mailing with coordinated Facebook ads to the same area! This one-two punch of church invitations is an easy way to make sure your message is reinforced and gets even more attention!

Be more visible to passing traffic with outdoor banners. If you've invited thousands of people to church, you want to make sure they find your building and make the connection between the postcard and your location. A custom outdoor banner that promotes your services and/or event times on the street outside your church is an easy and effective way to spread the word and get noticed – and the cost is as low as $99!
There is a reason we see lots of yard signs around town during an election – they draw attention and they demonstrate that people in the community are rallying together. These signs work at Easter too! Have yard signs printed with your Easter celebration information and ask your members to place them in their yards. Don't forget to include your website and location information!
Ok, your invitations are done and now you need to plan to receive, welcome and connect with your visitors! A great first impression is key to making sure visitors feel comfortable in your church. Most churches already have greeters but on special occasions you may want to step up your
welcome team
with new tools:
Set up special visitor parking and have volunteers out to help direct and welcome visitors. Large

Flag Banners

and

Outdoor signs

are great inexpensive tools you can use to help identify your parking areas.

Up your smile quotient with Hand held signs – add more greeters (kids and teens are great additions) and give them friendly signs to hold and wave as people enter your church. Signs that say "You Belong Here!", "Smile it's Sunday" and "We're So Glad You're Here" up your church's friendly quotient instantly.

Another tool you may want to add for your greeters and first impressions team is T-shirts – shirts that say "Welcome", "I Can Help", "Ask Me" or just "Volunteer" make it clear to visitors who they can turn to with questions.

Easter is one of the few days of the year where the whole family makes extra efforts to look nice – help families capture these moments by hosting a photo booth in your lobby. Include props for fun or just a nice background and encourage people to take pictures. You can even have a photographer available for a more professional result. An easy way to get started is with a

jumbo banner

as a backdrop – then add flowers, chairs or stools, and fun props.