How to Successfully Reach More People Using Multiple-Touch Marketing
As church leaders we have always been challenged with the task of reaching more people with the Gospel. In today's society, there are so many distractions that it can be difficult to get someone's attention long enough to introduce them to Jesus Christ. However, using multiple-touch marketing can help overcome these barriers and encourage church attendance. In this article, we will define what multiple-touch marketing is, offer tips for how to use it effectively, and discuss some of the benefits that come with this strategy. We hope you will find it helpful!
What Is Multiple-Touch Marketing?
Multiple-touch marketing is a strategy that involves using multiple channels or methods to reach the same targeted audience. The theory behind this type of advertising campaign is that by using multiple channels, you are more likely to reach someone who is interested in what you have to say. Many studies show that on average, it takes 7 positive "touches" to truly connect with someone before they will take action – like visiting your church!
How Does It Work?
Let's take a hypothetical example to illustrate how this might work. Suppose your church is having a special event next weekend that you want people to know about. You could create a flyer and post it on your website and social media. You could also use personal inviting tools like doorhangers or invitecards to reach people in your neighborhood. If you want to be really proactive, you might even send out a direct mail postcard with the details of the event.
By using multiple channels, you are able to reach more potential visitors multiple times than you would if you were only using one method.
Let's say that there are 10,000 people in your community who might be interested in hearing about what's happening at your church. Using multiple-touch marketing, you would:
    1) Mail a postcard invitation talking about your event to 5000 homes closest to your church.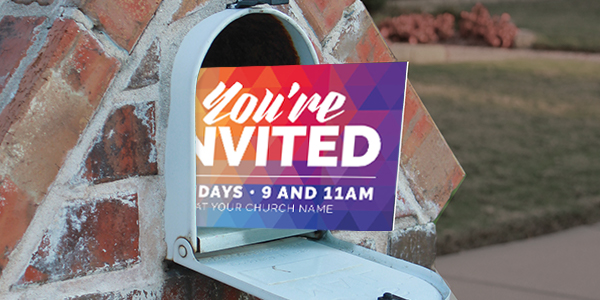 2 & 3) At the same time, you would post a social media ad inviting people in that same geographic region to the event. Depending on the ad package size, this ad can be seen multiple times by your target audience.
Combining both direct mail and digital ads is a powerful combination. Some studies show that digital and direct mail combined provide 68% increase in website visits, 39% more traffic to a story or business (or church) and 53% more leads, or people who are interested in learning more. 
    4) Then you can hang a large outdoor banner outside your church with the same event information.
    5) Send teams out to hang Door Hangers on front doors in the streets around your church.
    6) Put a poster, flyer or a copy of your postcard on a bulletin board at a local coffee shop, community center or other popular business.
    7) Provide your regular church members personal inviting cards to give friends and neighbors and encourage them to be bold in talking about the event with people they encounter or are connected with regularly.
Tips for Implementation
Now that we've covered the basics of how it works, let's talk about some tips for implementing this strategy into your church.
Be Consistent: One of the most important things you can do when it comes to marketing your church is to be consistent. Often churches are tempted to only invite people to church on Christmas and Easter. But what about the other 10 months out of the year? If people don't hear from you more often, they may forget about what's going on at your church or think that what happens regularly in church is irrelevant except during the holidays.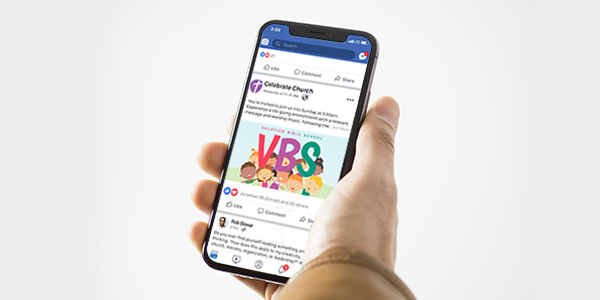 Be Creative: The more creative you can be with how you reach out and invite people to church the better. In our current culture people will not automatically understand how church attendance and special events can benefit their family. Help your community envision how your church can help with common needs like financial struggles, parenting or grief, this will help them see the benefits of church.
Be Bold: Promoting your church and inviting people to events is not the time to be timid. Put together a plan for the entire ministry season that includes as many steps and as many homes as you can. Just like personal evangelism may take someone asking a friend several times, your church may need to invite over and over before seeing a visit. 
Be in Prayer: Probably the most important tip is to be in consistent prayer asking God to use your efforts to reach those far from him and to make all of your marketing efforts effective. Also don't be afraid to pray for extra funds to make more outreach invitations possible. God has called us to GO and reach our communities – he will provide for those efforts!
Benefits of Multiple-Touch Marketing
There are many benefits to using multiple-touch marketing to reach out and invite people to church. The most obvious benefit is that by casting a wider net you can potentially reach more people, bring in more visitors who may become regular attenders and who become Christ-followers!
Additionally, using multiple-touch marketing can start conversations with potential guests in your community either online or as you visit local businesses. These early talks can lead to deeper discussions and engagement as people become more comfortable with the idea of coming to church. 
Finally, as you consistently invite and raise awareness of your church, you will broaden the awareness of your church in the overall community – helping people see you as a resource when they are ready to learn more about Jesus. 
We would love to hear from you! Have you tried using multiple-touch marketing in your church? What were the results? Share your thoughts and experiences on our Facebook page.