You can learn from best practices of churches succeeding in outreach and evangelism… and see what God might want to do in your city.
The Outreach Summit is a gathering of pastors of the fastest growing churches– plus leading church thinkers – that focuses on outreach, evangelism, and best practices of healthy, growing churches. It's my favorite conference. Because I can hear what other churches are doing to lead people to Jesus.
Here are some of the ideas, principles, thoughts, practices, and liquid church criticisms that I picked up at the Outreach Summit last week.
Ray Johnston, Senior Pastor, Bayside Church, Granite Bay, CA
2019 #1 Fastest Growing Church in America BaysideOnline.com
There are two things in an organization: mission and morale.

 The number one

 core value is the health of your church. It is more important than growth.
Have we lost our nerve? The new idol in America is the idol of safety. Most Christians don't tithe or serve because it doesn't feel safe. Every single thing you want is on the other side of fear.
Never listen to criticism from somebody you wouldn't turn to for wisdom
T.J. McCormick, Founding and Lead Pastor, Coastal Community Church, Parkland, FL
Know the pain in your community. And find a way to meet it. Be present and available. God will use your church in your city's tragedy.
To be ready for a move of God:

Pray.
Prepare your systems and processes.
Plug people in so when the harvest comes, you can take care of the harvest. God won't send us people that we're not prepared to take care of. For every volunteer on Sunday morning, they can reach 3 1/2 more people.
Push forward when momentum happens, so you'll go faster up the next hill.
Dave Vance, Lead Pastor, Crossroads Church, Mansfield OH
Cities don't ask churches for help because they don't think the church is willing to help.
If you reach the people no one wants to reach, you'll reach the people everyone wants to reach.
Tim Lucas, Founding and Lead Pastor, Liquid Church, Parsippany, NJ
Service is the new evangelism.
Go all in on one global cause.
If you ask people to care about everything, they'll care about nothing. Go deep in one thing.
Alan Briggs, Author and Lead Creative at Stay Forth Designs
We're living in the age of burnout. We live in a constant state of pastoral overwhelm. Impact has become the idol.
Instead, do less. Focus.
Don't bemoan Pareto's 80/20 Principle, but lean into the 20 percent. Don't be distracted by the crowd, but disciple the few.

 

Invest in a few people consistently. Give your best energy to a few in your inner ring.
How can you redirect 3 hours a week of your best energy to your inner ring?
Lee Strobel, Best Selling Author
New evangelism principles:
We are not afraid of questions. We honor them.
We are less arrogant, and more loving. Gentle and respectful.
We validate non-believers as people who matter to God.
We understand that apologetics and evangelism are a process, not an event.
We recognize that a story is sometimes as powerful as a statistic.
We don't pretend we're smarter than we really are.
We relax in the fact that the Holy Spirit is superintending all that is going on. God has our back. We're not in this alone.
We train our congregations in evangelism and in apologetics. Teach our kids apologetics.
What's Next?
Get the Digital Access Pass from the 2019 Outreach Summit to listen to all the sessions for $79.
Decide to go to the 2020 Outreach Summit, October 6th-8th. Register soon for the best rates.
##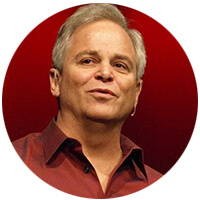 Hal Seed is the founding and Lead Pastor of New Song Community Church in Oceanside, CA. Hal mentors pastors to lead healthy, growing churches. He offers resources to help church leaders at www.pastormentor.com.