By Mary Deckert, Church Marketing University
Is your church ready to rock SEO? In this article by our friends at Church Marketing University, we'll cover the four most important factors for your church's SEO ranking . Or, check out the article below for Pro Tips for ranking FIRST in Google searches!
SEO- the Key to More Visitors at your Church
"Siri, What Churches are Near Me?"
People are searching for churches in their area every day. Places where they and their family can belong, connect with God, and grow in their faith. Help when times are tough and stress is high. Wouldn't it be amazing if they found YOUR church when they need you most? Not just at Christmas or Easter, but … every … single … week?
A good search engine ranking for your church's website means you'll have a consistent stream of new people finding your church all the time. Here's a question to ask yourself:
If you were to do a search right now for churches in your city, where does your church rank in Google?
Although 90% of website traffic comes from search engines, 99% of churches put NO EFFORT into even the basics of search engine optimization (SEO), and that's why it's such a good opportunity for churches! There's basically no competition. Plus, many on-page elements are simple things to do. Basically, you're telling Google what your website is about.
In this article, we'll explain how you can improve your search engine ranking in a matter of minutes. We'll also give you foundational tips for what matters most in SEO and — most importantly — teach you how to keep from getting overwhelmed.
Four Easy Tips to Improve SEO for Your Church
Tip #1- Don't be Overwhelmed
While some industries may need staff on board to specialize in SEO ranking full time, don't be scared off thinking you can't compete with multi-billion dollar companies like Nike or Amazon. Churches don't compete at that level. Most likely, you can do what you need to do within your current website platform, in just a few easy steps and at little to no cost.
Don't believe me? If you're updating your site on a regular basis (think events, sermon videos, services, etc.), all you need to do is make sure you're telling Google what you're all about. And all that takes is manipulating a couple of key factors in your current website technology.
You may not rank #1 from doing these simple things, but you most likely will rank on the first page. Plus, you'll be leaps and bounds ahead of where you were — that's the foundation. You can do the deeper, more complicated techniques down the road, but most churches don't even need to do that. All you really need to do is show up on the first page of a Google search. And that's relatively easy, even for an amateur.
Tip #2- Build a Firm Foundation First
Many people focus on things that truly aren't important in SEO ranking at all — things like personalization, citations or website behavior. Those factors have such a minor impact on your overall church ranking that you shouldn't even bother thinking about them at all, certainly not before you have your on-page SEO down pat.
What's on-page SEO, you ask? I'm so glad you did because it's the foundation you need for all other variables to work. Simply put, on-page SEO is the process of helping Google identify what your website is all about. The key thing to look at is, "What are the local ranking factors for the specific area you serve?" They tend to be different for every community. You can get a professional assessment of those factors from a subscription service like Whitespark, but it's not necessary. You can get similar results from the free tools outlined below.
It all sounds so simple. But that begs the question: why should Google care what you're all about? Well, Google makes money when it sells ads. But they can't sell ads if they don't have the consumer's trust. How do they build trust? By giving consumers exactly what they are looking for, literally in seconds. So it's advantageous for Google to show the best results — it allows them to build trust and sell more ads. According to Tyler Rominger, founder of Ministry Designs and all-around SEO guru, "When you don't tell Google what your site's about, it prevents them from showing your website. That's why fixing the little tags and description of your site is so critical."
If you'd like a deeper teaching about on-page SEO, listen to this episode of Website Wednesday Church SEO Basics.
Tip #3- Add Google Analytics
Another plank for the firm foundation you are building is to make sure you've connected your website to Google Analytics and the Google Search Console. Google Analytics tells you what people are looking at on your site and Google Search Console helps you understand which terms people use when they end up on your website. When you connect Google Search Console and Google Analytics together, you get a clear picture of all of the data associated with Google as it sends traffic to your website. That will tell you what simple changes to make that will drive people to find you when they're looking for a church in your area.
Google uses these tools to provide information to you about how they understand your website to help you give them the best information about you for search purposes — you tell Google enough about you and Google will send you people looking for what you offer, a win-win-win for everyone involved. We'll go over Google Analytics in a future article, but for now, if you'd like a complete step-by-step training in SEO, including Analytics, check out the full CMU Search Engine Course.
Tip #4- Focus on On-Page Optimization
What do we mean by on-page Optimization? Well, on the web–as in life–there are things you can control and things you cannot control. Obviously, we want you to focus on the things you CAN control. To be effective, your page has to load in under 2 seconds. You have to tell Google what you're about or you won't ever get the opportunity to connect with people in your community. And you have to make sure people are getting the information they need to stimulate that connection.
There are four things your website should do to make it successful. Your church website should help people:
Discover you: People have to be able to find you — this is truly most important.
Like you: People make instant decisions about whether they like you, 90% of that decision comes from the design of your site and happens within the first few seconds.
Trust you: People have to know they can trust your church; you can start building that trust on your website.
Engage with you: Once people like you and trust you, it's time to connect with them and get them plugged into your ministry. These days ministry often starts online, and the entry to that relationship is your website.
Why SEO Basics Matter for Your Church
When people search on Google, roughly 91 – 93% don't go past the first page of Google search results. If you're not returning on the first page of Google, your location is nowhere to be found. You simply do not exist. Websites that are optimized for search engines will get more visitors. That means an optimized website will get more people who will potentially visit your church.
Tyler Rominger explains it this way. "If you take this seriously over the next couple years, you're going to have community members "driving by" your digital location week-in, week-out, and it's your opportunity to tell them about the Good News."
Start With A Website Audit
Your website is simply a tool to attract visitors and get people to come to your church. An audit scans everything about your site and spits out a report that shows what you need to tweak with a list of what you need to do. CMU Partner Ministry Designs offers a free church Website SEO Audit. Click here, SEO Audit, enter your church's URL and in 15 seconds you'll have a report that says "here's what you need to tweak" or what you need to do.
Don't worry about everything — some things you won't be able to change (or may not want to change). And you can easily do a side-by-side comparison to see what other churches in your area may be doing to rank higher. Here's what you should pay attention to:
Site speed — do whatever you can to have your site load in 2 seconds or less. Some platforms may have plugins that slow the site down (WordPress, for example). And large images on your site can slow it down as well. Use this free tool to see what can be changed to speed up your site: GTMetrix
URL structure — Domain authority affects ranking; make sure you use keywords in your URL to help search engines find your site
Title tags (description tags) — include keywords
Images URLs — upload specific file name for the photos you have on your site, this adds additional reinforcement of the purpose of your page — for example, (churchincity_keyword) — Dashes are best; or dashes between same idea words and underscore when not the same idea. So, "Church-On-A-Mission_Worship" — "Church-Name_photosubject"
H-Tags — Applying H tags to your website doesn't necessarily help with load speeds; but it helps Google understand the content on your website. Use this free tool to help you come up with keywords that work in your community: Ubersuggest

Use your main keyword in H1-tag (i.e., church in CITY) – do at top of page, only 1 (purpose of your page)
Use secondary or sub keyword in H2 tags (i.e. Ministries, Events, etc.)
Use third level or sub, sub keyword in H3 ( i.e. Students, Young Adults, Childrens)

More important are Meta titles — titles (church name), descriptions (who you are)

Make sure key words are in your meta titles and meta descriptions
This is what tells Google the main purpose of your page
Has to make sense both to humans and to Google
Title — never more than 70 characters
Description — keep to 150-160 characters
All this and more is covered in the Church Marketing University Search Engine Course. There you'll find additional help for taking your church website to the next level, but really all you need are the basics to get you 80% there, the basics covered in this article.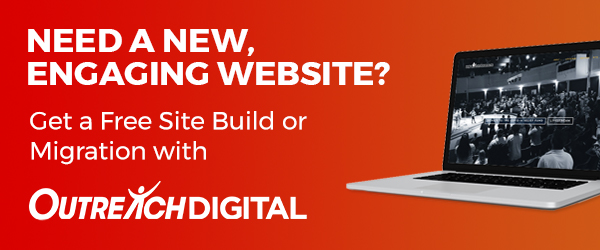 In Summary- Church SEO isn't Complicated
If you're looking for an "aha" take away, it's simply this: search engine optimization isn't complicated, doesn't take IT professionals or internet gurus to accomplish and doesn't cost a boatload of money. It's just the basics of telling Google who you are, what you do and why people in your community would care.
"It pains my soul to see churches overlooking search engine optimization because 90% of local website traffic comes from search engines and the majority share of that is from Google. What an incredible ministry opportunity we're missing because we don't want to put in a couple hours of work to just get the basics going." -Tyler Rominger
Don't miss this opportunity to drive new visitors to your website and ultimately to your church every single week.
This article is used by permission and first appeared here –
Mary Deckert has over 40 years' experience in multiple communications and strategic functions including leadership, marketing, crisis management, creative and problem-solving roles in government and business; for-profit and not-for-profit organizations. She has served multiple roles in her church as Communications Director, Women's Ministry leader, bible study/group leader, Youth Group Leader, Altar Ministry Worker, children's program developer, and Sunday School Teacher for all ages. And she's most delighted when putting those marketing/communications talents to use in Kingdom work.