Most churches know that having a website is necessary to stay relevant in the digital age. But, just having a church website doesn't necessarily mean it will be effective. An effective website tells the story of your church in an informative and compelling way. It helps potential visitors make an informed decision about whether or not your church suits what they're looking for. Have you reviewed your website lately to make sure it fits these criteria? We see a lot of church websites — some are fantastic, while others could use a bit of work to really serve their purpose well. We've rounded up seven of the most common church website mistakes to avoid:
1. A poorly designed site
Studies show that your website only has about 10 seconds to make a good impression on a visitor. That's only 10 seconds to convince someone that browsing your site is worth their time! Poor web design plays a major factor in first impressions. Here's why:
Good design proves credibility. It shows your church values professionalism and has invested in creating a website that represents your story well.
Good design shows relevancy. It's important to keep the digital portion of your church up to date. People seek information on the web now, so if they can't find what they need about your church on a well designed site, there's a chance they'll move on to a church where they can.
Ultimately good design improves perception of your church as a whole. Thankfully, you don't have to be a professional web designer to create a great website.
2. Overwhelming or underwhelming site information
76% of consumers say website usability is the most important part of website design. Basically, users want to easily be able to find information they need. You want to provide them with enough information, but you also don't want to overload your site to the point where it's overwhelming. There's definitely a balance to be found!
Your website should serve as a place for people to find the most important information about your church. When deciding what information to include, put yourself in the position of a new visitor. Would the content on your site give a visitor enough information about the church that they feel informed and invited?
So, how do you know what bits of information are necessary to include on your church website? Here are our must-haves:
A top navigation menu that is simple and clear
A "New Here?" or "What to Expect" section for new visitors
Short staff bios with professional quality headshots
Specific ministry information, especially children's ministry
Contact information (phone number, physical address, email address, and social media links)
Updated church calendar or "Upcoming Events" section
An online giving option
Easily accessible sermon archives
3. Focusing on current members instead of visitors
Did you know that 37% of Americans looking for a new church home will look for information online about churches near them? When it comes to young adults, that number grows to 59%. Because of this, your website should have the main focus of attracting and informing potential new visitors.
This is important to keep in mind when designing your church website because it will help you prioritize what information to include, and what information is better suited to a weekly email newsletter, church bulletin, or social media.
Your site needs to answer basic questions a new guest might have, like: What time are services? What does a typical service look like? Is there childcare provided? How do I get further involved and connected?
You can provide this information in two ways: through an FAQ section or a landing page format. FAQ's are useful for quick facts, but this information is often already somewhere else on the website. It's likely more effective to create a new visitors page with all your basic information.
Designing a guest-focused church website is appealing for outreach purposes because it helps you create your site with clear intention. When the most important information is guest-focused, it's much easier to avoid the trap of having too much information that overwhelms site visitors.
4. A site which isn't mobile-friendly
These days, it's crucial to have a website that is easy to navigate on all devices — phones, tablets, laptops, and desktop computers. Website visitors are five times more likely to leave a website if it's not mobile-friendly. A site that isn't mobile-friendly will be frustrating for visitors and may create the perception that your church is outdated.
So, what does mobile friendly actually mean? Simply that your website will respond to the size of the screen it's viewed on. The content stays the same, but the structure and layout of the site is stacked instead of horizontal. The top navigation turns into a drop-down menu to help make the site easier to navigate.
Having a mobile-friendly site also helps with SEO. SEO, or Search Engine Optimization, is how Google ranks your website on search pages. If you want your website to be easily found on Google, a mobile-friendly website will help.
Not sure how to make your website optimized for mobile? Using a website builder that's design with mobile in mind makes it simple for you.
5. No online giving
Have you ever been in a situation where you wanted to help someone out financially, but didn't have any cash on hand? For more and more Americans, carrying cash and checks is becoming outdated, especially for younger demographics. If you want to maximize your website's impact on your church as a whole, you need an option for online giving.
Online giving helps members build healthy giving habits, regardless if they happen to be in service on Sunday or not. Online giving allows for automated recurring gifts. On average, churches using online giving have seen a 32% increase in donations! Don't miss out — if you're looking for an online giving platform, check out our list of recommendations.
6. Out of date church website content
One of the biggest turnoffs for a new visitor browsing your website is finding out of date information (especially if it's on the homepage). If your website still has details for an event that happened three months ago, a visitor may get the impression your church doesn't prioritize keeping members informed.
Your church probably has a lot of great events, ministries, and outreach efforts, so keep everyone updated with current information! This way people can stay in the loop about what's going on in your church. Posting images of events and get togethers on your church social media also help potential visitors know what to expect the first time they visit your church.
It might help to assign a member of your staff or a volunteer to be in charge of keeping the website up-to-date. This includes updating the calendar, uploading new sermons each week, and adding any other new information as needed. Designating a team member for this job shows that keeping your website updated is a priority, and will help ensure your site remains relevant and updated.
7. Important information isn't front and center
Perhaps the biggest mistake you can make with your church website is burying important information at the bottom of your site, or forgetting to include it at all. Your contact info and service times should be among the first things a visitor sees.
You can include this information in the footer or header of your website, as well as have a separate page for contact information.
Conclusion
If you've made some of these mistakes on your website, don't worry! Take them one at a time, and you'll be well on your way to a great church website. To sum it up, here's what you can do to make your church website effective:
Create a visually appealing website that focuses on design and tells a story
Provide the best information in the right quantities
Cater to first-time visitors and guests
Have a mobile-friendly design
Include online giving
Keep your site up to date
Put the most important information front and center
Still not sure where to start when it comes to designing a great church website? We can help! Outreach Digital has church-specific websites that helps you create a beautiful, effective website.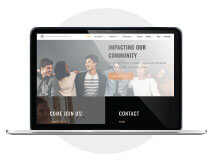 Outreach Sites makes building and managing a website easy with features and templates designed just for churches.