As social media use becomes increasingly widespread, churches need to understand how to best harness the power it holds. But, developing a strong church social media strategy requires understanding a variety of social media platforms, especially when it comes to shifting algorithms that change what each platform prioritizes.
So, how can your church use social media to its greatest potential?
Here's a quick breakdown of the top 5 church social media platforms, what they focus on, and how you can use each platform for your church:
Facebook
The Main Focus: Meaningful Interaction
How it Works: The Facebook algorithm searches through posts and decides which post a user will most likely interact with. This is based on the content available, predictions about which content users have interacted with before, and active engagement (likes, shares, comments).
How to Use It: Focus on meaningful interactions with people (likes, shares, and comments).
Post content that connects with your community, or the people who like your page. Posts can be things like announcements, stories, and news about your church.
Be authentic. Your Facebook page is an opportunity to connect with your church community outside of your weekend services. You can even interact with your community in real time through Facebook Live.
Use Facebook Groups to spark conversation that is meaningful and relevant to your church family.
What to Avoid: Be genuine and avoid posting content that isn't engaging. Be careful not to comment bait — Facebook won't show posts that use phrases like "tag a friend below" or "comment YES if you agree." Instead, your posts should spark real conversation!
Instagram
The Main Focus: Timeliness, Relevancy, and Relationships
How it Works: The Instagram algorithm focuses on timeliness, interest, and relationships. Instagram will show your post to more people if your post gets engagement (likes and comments) quickly or if the user has interacted with similar content or the original poster before. The algorithm is also more likely to show posts that have high engagement because it proves the content is relevant and interesting to users. If your audience interacts with your posts regularly, they're more likely to see future posts from you.
How to Use It: Post creative and engaging images and video regularly.
Through some trial and error, your church can find what time of day people tend to engage with your posts. Posting during that timeframe encourages engagement with your followers.
Be authentic. Use Instagram Stories to increase your engagement even more with polls and other interactive options.
Ask open-ended questions that prompt people to comment on your photos, and use relevant hashtags.
What to Avoid: Instagram is all about visuals. Avoid being too promotional or posting low-quality photos or graphics.
Twitter
The Main Focus: What's happening?
How it Works: The Twitter algorithm is based on two things: timing and relevance to the user. Tweets will appear at the top of your timeline based on how recently they were posted and engagement on the tweet (either from the user or from other followers). The more relevant to users, the higher the tweet will appear on the timeline.
How to Use It: Twitter is all about keeping users informed with relevant and noteworthy information.
Tweet regularly so that followers see your content.
Engage with other tweets your church might enjoy by either liking or re-tweeting them. This will help Twitter determine the type of content to associate with your church.
Use hashtags (but not too many!) to help other Twitter users find your content.
What to Avoid: Twitter is a microblogging platform, so tweets can't be longer than 280 characters. Be careful not to post tweets that are too long. Instead, make them short, witty, and to the point.
LinkedIn
The Main Focus: Professional connections
How it Works: The LinkedIn algorithm is centered around content ranked by engagement and connection strength. Content that is engaging (lots of likes and saves) and connects with the target audience shows most often. Connections, in this case, are based on similar and shared interests, jobs, and whether content is shared by a primary or secondary connected user. Think of a primary connection as a "friend", and secondary connection as a "friend of a friend."
How to Use It: Linkedin is all about professional connections and networking.
Network online by building connections with other churches in your area, influential pastors, or faith leaders.
Share, create, and interact with content that helps increase your credibility as a thought-leader in the faith.
By showing up as a professional organization, you can help build trust with potential visitors.
What to Avoid: If you're going to create a LinkedIn account for your church, the most important part is creating a thorough profile. If your profile isn't completed, potential visitors might think you don't care enough to give a full picture of your church. So, make sure to have a professional image as your header and a detailed description about your church.
Pinterest
The Main Focus: Visual discovery
How it Works: Pinterest is a little different, because it shows content based off of previous user interactions in a guided search. It looks at past search history and saved content and suggests similar content for users.
How to Use It: Pinterest is like a virtual bulletin board your church can use to post uplifting and encouraging content you find.
Create themed boards. You can create an entire board of inspirational bible verses, your favorite quotes, or even Easter decoration ideas.
Post your own pins with content you create yourself or repin other user content. Add to your boards regularly to keep them updated.
Use attention-grabbing descriptions to help users find your content and know what it's about.
What to Avoid: Pinterest loves consistency. Maximizing the potential of Pinterest requires pinning new content to your boards regularly. Have a strategy, but have fun with it!
Church social media might seem intimidating, but it can play a huge part in your outreach strategy. Start small with one or two platforms, and as your confidence grows you'll be able to truly maximize the power of social media.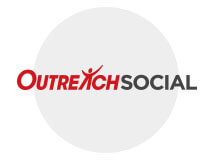 Energize your Social Media
Churches are seeing an average 3x increase in
their likes, comments, and shares on Facebook.