Did you know Facebook has over 2 billion users? In fact, according to Facebook, over 60% of all people in every age demographic are on Facebook.
88% of people ages 18-29
84% of people ages 30-49
72% of people ages 50-64
62% of people ages 65 and over
This means Facebook is one of the best answers to how to grow your church online.
Are you trying to reach young people? Looking for new families to join your church? Want to engage with boomers and the elderly population?
No matter who your church is trying to reach, chances are they're on Facebook. Your church needs to be on Facebook, too! Having a church Facebook page can help your church in three main ways: connecting with your community, reaching new people, and staying relevant. Read on to learn how your church can maximize your impact on Facebook.
Connect With Your Community
There are 168 hours in a week. If your Sunday service lasts about an hour, how are you connecting with your church community during the other 167 hours of the week?
The average American will spend at least 35 minutes a day on Facebook. That's at least four hours a week you could potentially interact with your church community outside the four walls of your church building!
As a pastor or church leader, you may not have time to engage with every member of your church face-to-face. Facebook lets you meet people where they already are — online! Church isn't confined by a building, nor is it confined to in-person interactions. Facebook can be used as a ministry platform to interact and engage with your congregation.
There are lots of creative ways you can use your church Facebook page to connect with people every day.
You can post everything from encouraging scriptures, educational articles, daily devotionals, or questions you'd like your congregation to answer. Focus on posting content that encourages your followers to like, comment, and share your posts. The more engagement on your posts, the greater your reach! If you're not sure what to post, Social Reach Daily can help you get started with consistent daily posts.
As your church Facebook page continues to grow, think of it kind of like another campus. Share stories of how God is working in your church, and post videos and photos from events and weekly services. You can even use Facebook Live to create live experiences where people can interact with each other and build a sense of digital community.
At the beginning, your Facebook page might not see a lot of interaction. Just like any new group or ministry, people need time to adjust. Create a team of social media savvy volunteers to help you manage your church Facebook page. Encourage your volunteers and staff members to regularly like, comment on, and share your church Facebook posts. You can also use a Facebook Group to create a more intimate environment for members to share prayer requests, praise reports, and exciting events.
If you view your Facebook presence like a ministry, you'll begin to create a welcoming environment online. Continue building an authentic community through Facebook, and remember to humanize your followers. They are real people with real stories, and you can have a real impact — even on social media.
Reach New People
Facebook is a great way to reach new people in your community by promoting church events or sharing engaging content.
One way to reach new people is through organic traffic, or traffic that is unpaid. Facebook rewards pages that consistently post content people engage with. The more people engage with your content, the more likely Facebook will show your content to even more people. Plus, when people share your content, their Facebook friends will see the post. That increases your reach and impact even more!
You can also create organic traffic for your church Facebook page by live streaming your Sunday services or having weekly Facebook Live sessions. Facebook Live lets people in your community "try out" your church while they're trying to decide if it's worth a trip to attend a Sunday service in-person. Live streaming can also help your church reach people who may not be in your community, but still need to hear the message of Christ.
Facebook is also a great way to promote your upcoming events. With Facebook Events, you can create a public event and fill in all the details people need to know before attending. Then you can invite people, and encourage your church members to share the event with their Facebook friends. Spending a little money on a Facebook Ad will help promote your event even further.
In fact, paid advertising is a great way to reach new people in your community, and can be very affordable depending on the size and scope of your campaign. Facebook Ads area great for helping you interact with your community outside the organic reach of your page. You can also pay for a Likes campaign to encourage new people to like your page.
Stay Relevant
Social media is a vital aspect of any modern outreach strategy. Church who do not use social media are missing out on reaching an entire potential market, not to mention that they may appear outdated to new visitors.
When people make important decisions, they often turn to social media to help. In fact, 74% of consumers use social media to guide their decision making when purchasing items. As people "shop around" for a new church, they'll probably look at your social media presence. This play a a key role in helping people decide if your church is the right fit for them.
Your social media presence often serves as one of your first impressions with potential new visitors. If your church Facebook page hasn't been updated in months, that can present a poor first impression. Being visitor and outreach focused requires your church to take advantage of all contact points with new visitors — don't leave Facebook out.
An engaged Facebook page and Facebook community also shows social proof for new visitors. Posting videos and photos from services and events shows people what your church is really like. Consistent posts with comments and likes show a sense of community amongst your congregation that spreads outside of your church building.
Are you convinced that social media is important for your church? Barna Group President David Kinnaman puts it this way: "Whether or not you welcome it, technology creates an entirely new calculus of influence and independence. The stewardship of technology as a force for good in culture is an important role for technologists, entrepreneurs, educators, and Christian leaders."
It's clear that Facebook offers huge potential for churches. As you become more comfortable navigating the platform, your church can use Facebook to connect with your community, reach new people, and stay relevant.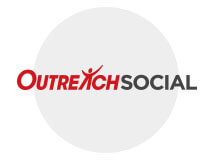 Energize your Social Media
Churches are seeing an average 3x increase in
their likes, comments, and shares on Facebook.