These days, so much of church marketing and advertising occurs online. You may be wondering if church banners and signs are still useful for your church. The answer is yes! Successful church outreach campaigns require multiple methods to connect with your community. To truly create awareness around your church, you need multiple touch points. Methods like direct mail, outdoor church signs, a church website, and church social media can definitely help get the word out about your church, but don't forget about the simplest church outreach tool of all: outdoor signage.
Outdoor signage is one of the easiest ways you can create awareness about your church throughout your community. There's an option for every budget and need: vinyl banners, yard signs, directional signs, flag banners, and more.
Why is outdoor signage so effective?
Outdoor church banners and signs are easy to use. All you have to do is order your banners from a vendor and set them up when they arrive. That's it! As soon as they're in place, your banners will start doing round-the-clock work generating awareness about your church to anyone who passes by.
Outdoor signage is affordable. Good banners will last for years. If you invest in quality from the start, you'll get a lot of use out of them for the amount of money you spend.
Outdoor church banners are always hard at work. A banner hooked to the side of your church works 24/7 to inform and attract passing traffic. You can share important information on your signs, like service times or your church website. A well-designed sign makes it easy for potential visitors to know how to take their next step in finding out about your church.
Outdoor banners and signs attract attention. Brightly colored flag banners, bold graphics on over-sized vinyl banners, eye-catching yard signs – each of these command a glance from those driving or walking past your church. If they're designed well, passersby will immediately be able to take in the information on the sign.
Outdoor signage makes your church look inviting and friendly. Banners and signs show people in your community they're welcome to visit and your church is excited to meet them. When your signs display service times or upcoming events, you're inviting everyone in and encouraging them to connect.
How can you make outdoor church banners and signs work for you?
Like any church marketing tool, there are a few best practices that will help maximize your reach.
Keep your church banners and signs consistent with your other outreach tools. For example, if you're promoting a big holiday service at your church, you're likely using a holiday theme for your direct mail, door hangers, and invite cards. Make sure your outdoor signs match the theme, too.
Keep it simple. When people drive by your church, they won't be able to read a long bible verse on your sign. They'll only have a few seconds to take in the information you display, so your service times, web address, or the date of an upcoming event are best.
Follow basic principles of good design. Make your key information bold and large, have a clear call to action, and include a way for someone to contact you. Avoid font that's hard to read and color pairings that are hard on the eyes.
Make sure unchurched people can understand the message. Using Christian specific terminology might not confuse your current members. However, if you're hoping to attract people who aren't already church goers, make sure your signs don't have church-specific language they may not understand.
Which church banner or sign is right for you?
Pro Tip: Don't forget about hardware.
Once you select your banner, you're halfway there! The next step is choosing appropriate hardware to make sure your banner is displayed properly. Make sure your hardware is sturdy and made to support your banners and signs in all types of weather.
When combined with other church marketing efforts like social media or direct mail, outdoor church signs will help create awareness around your church and attract new visitors. These affordable tools can help showcase your church as an inviting place for people in your community to find genuine connection, learn about Jesus, and grow in their faith.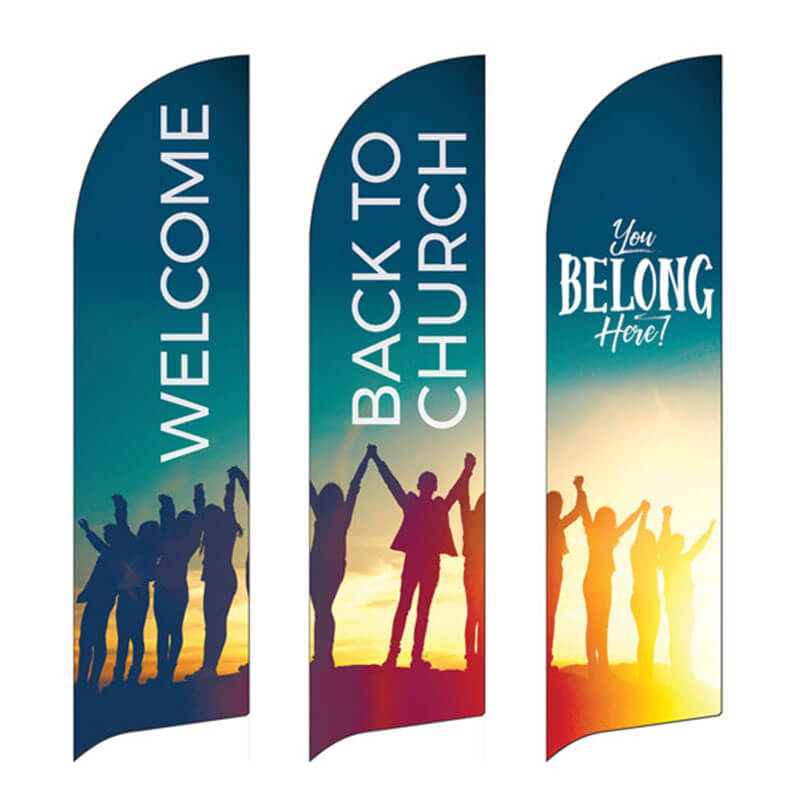 High quality church flags, banners, and signs for every occasion.