We did a little research and put together a list of our 7 most popular Christian comedians. You can trust these performers to put on a clean, professional show, to entertain and enrich your audience!
Brad Stine
God's Comic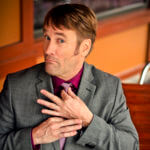 Brad Stine is an American stand-up comedian, actor, and author. Rick Warren says, "Of the hundreds of comedians I've seen, both Christian and secular, Brad Stine is the best … His comedy is not only clean, but it's smart, funny and edgy."
Brad is one of the most covered Christian comedians in the nation and has been featured in national media outlets such as The New York Times, NBC Nightly News, HBO, Showtime, CNN, Glenn Beck, Hannity and Colmes, MTV, and Comedy Central, and more. His aggressive comedic style has hints of Robin Williams, Sam Kinison, and George Carlin.
Brad performs in churches, clubs, and fundraising events all across the country. If you are looking for a well known, clean and edgy Christian comedian, than Brad is a great fit for you next gathering or fundraising event!
View Brad's Stine's complete profile and booking information
Amy Barnes
Incredible Stand-up Comedy
Amy Barnes started her stand-up career in Seattle while still working her day-job as an aerospace engineer. She would soon have to choose between the two, and she picked comedy!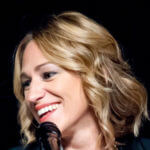 After a move to Los Angeles, Amy began writing for comedians and actors like Jack Black, Morgan Freeman, and Bonnie Hunt. She has appeared on Comedy Central and the National Lampoon Network.
Amy has a unique ability to connect with women at all stages of their spiritual journey. Sara Ewert of St. Mark's Methodist Church says it this way, "Amy entertained over 350 women all day with her hilarious humor, her wonderful music and sharing her faith journey.  She is an absolute joy to work with … We can't wait for her to return!"
Amy tours nationally and would make a wonderful addition to your women's event, church outreach, or corporate event.
View Amy Barnes' complete profile and booking information
David Dean
Stand-up Christian Comedian
Family friendly comedy is David Dean's sweet-spot. David says, "There is nothing that thrills my heart more than looking out into an audience and seeing families; dads, sons, moms, daughters, hunched over laughing."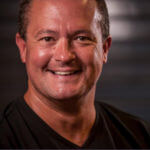 With over 25 years of comedic experience, including time at the famous Second City School of Improvisational Comedy in Chicago, David Dean has mastered a fast-paced, clean, non-corny style. David views comedy as simply a platform for talking about Jesus.
Beyond the stage, David is passionate about serving Christ through short-term mission trips and leads many trips. If you are looking for a family friendly comedian for your next church-wide, marriage, men's community, or fundraising event, David Dean is an excellent choice.
View David Dean's complete profile and booking information
Mark Christopher Lawrence
Award-Winning Actor and Comedian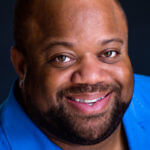 Christian comedian Mark Christopher Lawrence is an award-winning actor and stand-up comedian. Mark has a wide range of experience as an actor, producer, vocalist, comedian, entrepreneur and literary scholar.
You may have seen Mark playing a variety of characters in Seinfeld, Touched by an Angel, Malcolm in the Middle, Terminator II: Judgment Day, The Pursuit of Happyness, K-Pax, Planet of the Apes, among others.
There are two attributes that define Mark's performances, they are his love for people and his memorable charm. If you are looking for clean Christian comedy for your men's ministry, fundraiser, or outreach event you would be wise to consider Mark Christopher Lawrence.
View Mark Christopher Lawrence's complete profile and booking information
Justin Flom
The Live Personality
Justin Flom will captivate your audience with his unique mix of illusion and entertainment. His engaging show will delight, as he expertly blends together music, magic and personality.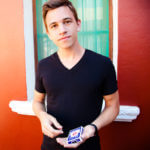 At just 26 years old, Justin Flom has been viewed over 5 million times on Youtube and has been a guest on the Ellen Degeneres show. Justin travels globally and has performed in over 26 countries.
Give your next youth gathering, community night, or church-wide outreach a thrilling boost with a one-of-kind performance by Justin Flom. Don't be surprised when you find yourself saying, "Did he seriously just do that?!"
View Justin Flom's complete profile and booking information
Scott Wood
"Mr. Punchline"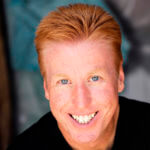 Scott Wood is a stand-up comedian and impressionist. He has been entertaining audiences for nearly 20 years. Scott's rapid-fire joke delivery and 300 celebrity/animated voices will have you laughing until it hurts.
Scott's many television credits include ABC, NBC, CBS, FOX, Comedy Central, and more. He has also been featured at major corporate functions for Disney, Toyota, Home Depot, and others.
Scott shares a powerful testimony of transformation. Leaving a life of drugs and alcohol there came a time when he realized humor was a gift from God. "I got down on my knees and said, 'Lord if You can use my humor, use me,' and He did."
Scott Wood may be the perfect fit for your next Christian comedy night or outreach event.
View Scott Wood's complete profile and booking information
Nick Arnette
"Feel-Good Funny Guy"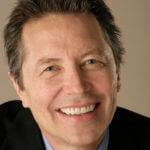 Christian Comedian Nick Arnette provides clean, hilarious entertainment, for all ages. Nick has been getting laughs with his clever comedy for over 20 years. His light-hearted approach appeals to audiences of all shapes and sizes.
Nick has performed alongside some of comedies biggest celebrities like Jay Leno, Jerry Seinfeld and Tim Allen. You may have also seen him on HBO, A&E, Comedy Central and other comedy shows.
Not only will you find yourself entertained, Nick Arnette will make your people feel important, let your staff and volunteers know they matter, authentically care for your audience, and customize his presentation to suit your needs. In addition to his performances, Nick has a very deep faith in Christ and actively serves in his home church.
Nick Arnette will help take your next church outreach, men's ministry event, or singles comedy night to the next level.
View Nick Arnette's complete profile and booking information
More Christian Comedians
Other Christian comedians you've got to check out:
John Crist
Mutzie
Carlos Oscar
Ken Davis
Michael Smalley
Harris III
Bone Hampton
Leland Klassen
Outreach Speakers began with a vision to help churches and other faith-based organizations reach their communities with invitable events. We specialize in dynamic, outreach-oriented events that create opportunities for building community, reaching the unchurched, and sharing faith. Our nationally recognized roster is ministry-minded; every one a born-again believer ready to share a Christ-honoring message.
We represent Christian apologists, authors, comedians, performers, athletes, celebrities, and speakers across the country. We serve churches, ministries, schools, and faith-based events of all sizes. If you need talent for your next event, you need Outreach Speakers.
Book Clean Laughs for Your Next Big Event
See our entire list of Christian comedians and speakers.