Does your children's ministry area fill the kids in your church with delight? Are they excited to show up every Sunday and spend an hour or two learning about Jesus in the space you've designed for them? Are you looking for fresh new ideas on how to decorate a children's church?
Hopefully the answer is yes, but we know budget restrictions often mean updated children's ministry areas get pushed to the backburner. Most churches want their children's ministry space to be fresh and exciting for kids, but don't always have the dollars to turn dreams into reality.
We understand! That's why we've put together a few ideas for refreshing your children's ministry area on a budget. Choose one, some, or all to give your space a boost and put a smile on your little ones' faces.
1. Declutter
The first one's free! Grab a couple of volunteers and take an hour or two to declutter your children's ministry space. It's easy to acquire A LOT of supplies, materials, and toys in kids ministry, especially if your church has been around for a while.
Think about it — when's the last time someone took the time to sort through old art supplies, curriculum, toys, and books? Get rid of anything dingy, old, and broken as you sort. Be ruthless in tossing out everything that doesn't meet a high (but reasonable) standard. Your kids deserve your thought and care when it comes to the quality of their children's ministry space!
This is the perfect time to take inventory of what you have, which will help you figure out what you need. Imagine how good it will feel to step back and look at your newly decluttered space with a clear list in hand of what you can add to make it better. Plus, decluttering prepares you for the next step…
2. Deep Clean
This one's free, too. In fact, hold onto those volunteers for a couple more hours and knock your decluttering and cleaning out in one afternoon! You've tossed out all the extras you accumulated through the years, which has probably cleared up a lot of surface space in your children's ministry area. This is going to make it much easier to clean!
Of course, your children's ministry area should be cleaned regularly (we're sure you already do this), but a deep clean will really help it sparkle like it's new. From the baseboards to the lighting fixtures to the dark corners of your cabinets, leave nothing out. Dust, wipe, scrub, mop, vacuum, polish…it's for the kids!
Bonus tip: It might be nice to provide your volunteers with lunch/snacks/high-fives for taking the time to be awesome and help you out.
3. Paint
You knew this one was coming, didn't you? That's because nothing brightens up a space quite like a fresh coat of paint. This is a chance to have some fun! After all, kids love color.
If your children's ministry space doesn't have a color theme, this could be a great time to establish one. Color theme or not, choose something happy and bright that will energize the space.
It's a good idea to get a few paint samples and try them out next to each other in several spots throughout the room. A color may seem great on that square paper swatch at your local home improvement store, but it can look completely different once it's on your walls. Try out several small samples to make sure the color you're choosing looks good in your unique space.
Satin or semi-gloss sheens are good choices for high-traffic areas because they're easy to clean. A quick wipe with a wet rag will erase any little fingerprints that make their way onto the wall.
4. Add Rugs
Kids spend a lot of time on the floor! Depending on the size of your children's ministry space, a couple of new rugs can be a great way to make a room feel more inviting and cozy. These don't have to be expensive — there are some great budget-friendly options out there. Colorful and soft are your main criteria.
Just make sure you give your children's ministry rugs extra attention during your regular cleaning process. Your kids will spend a lot of time on them, so clean up those inevitable crumbs and crayon marks before they have a chance to accumulate.
Another fun options is foam floor tiles — they're definitely easier to clean. You can also customize the sizes to fit your unique space.
5. Visit IKEA
If you're on a tight budget but want to spruce up your children's ministry space, IKEA might just be your best friend. It's a great source for affordable rugs, and basically anything else you need to decorate your children's ministry area. Furniture, storage, toys — they've got it all. If you want to make one buying trip to renovate your space, IKEA can help you out.
What to buy? Maybe some new tables and chairs made just for kids, or some colorful storage options to help keep your newly decluttered space organized.
Don't worry if there's not an IKEA nearby, though! You can still find all these things for great prices at Target or Walmart. Dollar stores might have some fun options, too.
6. Restock Supplies
Remember when you had that decluttering spree and got rid of all those dried out markers, broken crayons, and crumpled sheets of construction paper?
Now it's time to restock! You can even put your brand new supplies in those nice storage containers you found at IKEA.
Having fresh, organized supplies is a small but significant way to give your children's ministry space a boost. After all, there's nothing like a fresh box of crayons…
Bonus tip: Check out Amazon for some bulk ordering options that will save you money in the long run.
7. Decorate
Your walls are freshly painted, but don't leave them empty! Now is a great time to liven up your children's ministry area with kid-friendly wall art. You can find stand alone pieces, or go with a theme to really make your space stand out.
Have a large, blank wall? Try a mural. Need a little extra character? Have your kids use their new art supplies to draw, paint, or craft their own unique art to hang on the walls.
There are so many options to help create a colorful, inviting area for your children's ministry. Kids will be delighted to find fun art on the walls, and even more excited to help contribute to the decorations!
8. Fresh Signage
Now that you've spent all this time sprucing up your space, you want to draw people to it, right?
Fresh signage for your children's ministry area is a great way to do this. Bright signs with clear directions show people where to go to find your children's ministry space, and make them feel welcome once they get there.
You already know you need directional signs in your lobby to point people toward your children's ministry, so why not pick some that are as happy and bright as your freshly renovated space?
So, there you have it! Can you imagine how excited your kids and their parents will be when they see your refreshed children's ministry space? It doesn't take a huge budget to make a place kids will love. Thought, care, and a little sweat equity will take you far!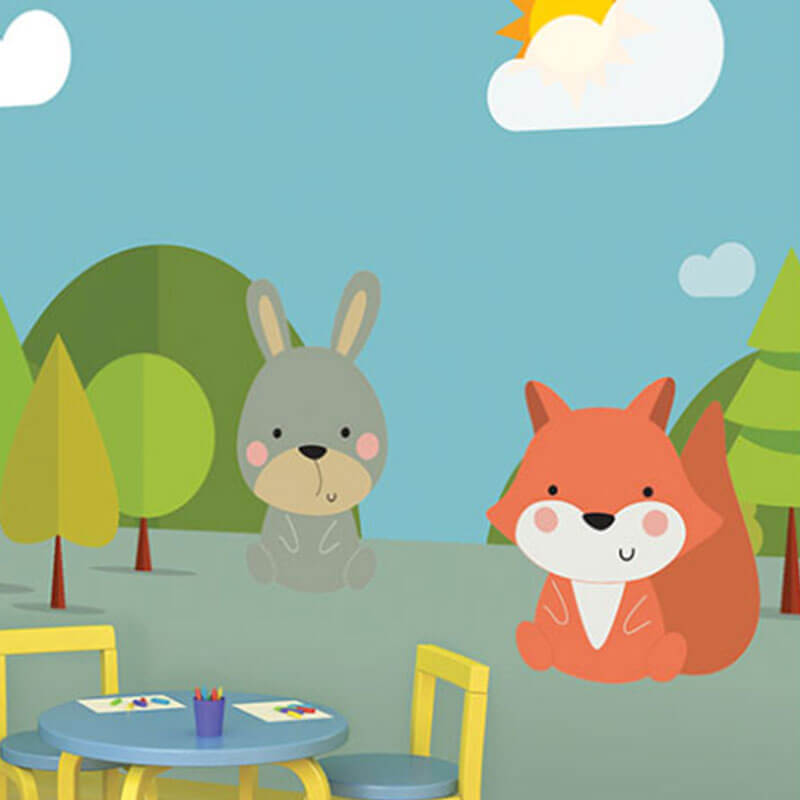 Transform Your Children's Ministry Area
Browse inexpensive and delightful wall art and banners for transforming your children's ministry.