"I'm in big trouble," said Josh, the new social media manager of Grace Community Church. Josh had been asked to become the church's social media manager a couple weeks before and, although he enjoyed tinkering around on social media and had run a small ad for a friend's business, he honestly didn't know the first thing about being a church social media manager or how to execute any strategy. 
If you're a social media manager, pastor or volunteer and have felt like Josh, you're not alone. It's one thing to be familiar with posting graphics online – It's another to be responsible for seeing growth and reaching more people with the gospel on social media.
In this article, we'll provide you 7 steps for creating a successful church social media strategy. This plan will lay some of the groundwork for social media management to help get you started in the right direction.  
You can't do it by yourself. At least not for long. Part of your role as the Social Media Manager for your church will be leading others in helping your church achieve your social media goals. 
Having people in your church who are willing to lend a hand is crucial to having a social strategy that actually brings results. And we get it:  Asking people to help takes work. But delegating a few small tasks to many people not only makes it easier for you in the long run, but may keep your volunteers from feeling overwhelmed. Here are some tips to make the recruiting process easier:
The more awareness you can create, the more chance volunteers will be interested. Now's the time to utilize your church bulletin, email list, announcement slides or have someone spotlight it during a service. Also make it easy for people to take action – make sure there's a sign up table in the lobby, or put a sign-up card on the chair back. You can also create a form on your church website and provide people the link.
Encourage members to complete a gifts + abilities assessment
Don't assume that you only have to have young people who are "tech-savvy" – it takes many talents to make a social media strategy successful. Encourage interested volunteers to take a gifts and abilities assessment to help identify the best place for them to volunteer. There are many great online gifts and abilities assessments you can reference. Use this to get a feel of what your team could possibly bring to the table and to ensure they are feeling empowered to use their gifts.
Invite potential individuals for coffee
Some gifted and talented people won't sign up. Big surprise. Sometimes it takes a one-on-one conversation to encourage them to think about serving. Of course, you never want to push someone into something, but most of the time that personal invitation is all they need to motivate them to step up. I always use wording like "There's no pressure, but would you be open to trying it out for 3 months?". That way the volunteer knows that they can think about it, and if they do commit, they're not signing their life away.
Have a brainstorming session
Once you have a good roster of potential volunteers, plan a brainstorm meeting and go over the different ideas and actions you want to take. Use this as an opportunity to get everyone excited about reaching others and how they can play apart. 
I use the word "meeting" loosely. I would make it as fun and enjoyable as you can. Serve some light snacks or desserts. Open up with an ice breaker game. Have everyone go around the room and explain what makes them excited about reaching people in their community with the love of Jesus.
Once you've created a warm environment, go ahead and move on to the next step: Share the heart and vision behind your social media strategy. Help your people see and feel what you do for those in your community. One thing you can mention is that Facebook is the second most popular social media platform (with YouTube being number one) and it keeps growing. This means it is a bigger mission field than ever before and just like other places we send missionaries, we need people who are willing to share Jesus online. (see our blog article on 5 steps for becoming a Facebook Missionary). Help them see the impact your church can have in the lives of everyone who will be touched by your efforts.
STEP 2. Identify who you want to reach
A pastor once asked a newly hired youth pastor "which schools in town he wanted to reach the most". The youth pastor's energetic response was "all of them!". Chances are if I asked you who wanted to reach on social media, you might be tempted to say "everyone!". While it's great to  have a heart to reach all people, the truth is that God knows who he wants our churches to minister to, and he surrounds you with the people he wants you to reach. That should be good news – no more stressing out about having to connect with everyone!
 When it comes to who we're trying to reach people online, there's a few questions to ask to help identify your target audience:
Who can you definitely reach?
Paid Reach – Who are the groups of people immediately near your church that need to hear about Jesus? Think about the local schools, businesses and homes around you. They're the ones in your community who will know your church and who you can best influence. Focus on reaching these specific groups by using a Facebook Ad strategy. Facebook ads allow you to target a specific zip code and choose the behaviors and interests of your targeted demographic. You can choose any budget and decide how long to run the ad for.
Organic Reach – Everyone who attends your church has a circle of friends and most of them probably will be on social media. Your church members also have family members who don't know Christ, friends who are asking questions about God, and co-workers who need a breakthrough in their life. These are all people you can reach organically through your church followers. The more your church followers like, comment and share your content, the more these people will see it.
Where are they spiritually?
People are all in different places on their spiritual journeys. Andy Stanley, senior pastor of North Point Community Church in Atlanta, coined the term "Returners and Starters". These are groups of people who slip in and out of church who may be new to the faith or are returning to their faith. Maybe some people are seasoned believers looking for a place to grow spiritually, or be encouraged to share their faith with others. Use the next three questions to help think about what these groups they're going through. You can even pull out a white board and draw a diagram similar to the image below at your brainstorm meeting and ask everyone for help getting ideas: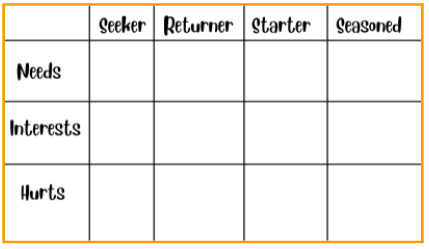 People have so many different needs today, especially coming out of a post-Covid world. I can think of several people who are experiencing financial hardships and need to know God wants to provide. There are people who are sick and God wants to provide them healing and comfort. There's so many physical, mental and spiritual needs that the church can address with love and encouragement.
What are their Interests?
In my community, people love hiking, camping, biking, going to the movies, getting coffee and recently, Escape Rooms have become a big hit. What are some interests that your community has? When you identify potential interests, it helps build common ground. Is your church hosting any events that cater toward their interests?
Oftentimes people leave their faith due to different hurts. Maybe a loved one died. Maybe they were wounded by someone in the church. Maybe they struggle with questions as to why God allows bad things to happen to good people. When someone cares enough to ask me how I'm doing, listen to my venting and pray with me, it brings me comfort. Imagine what that might do for someone who doesn't have faith yet?
By laying this groundwork with your team, you can then move on to picking the right social platforms, developing great content and learning how to measure your success. We will cover all of this in parts 2 and 3 of this article. Be sure to explore this topic more.
———————————————————————————————————————————————–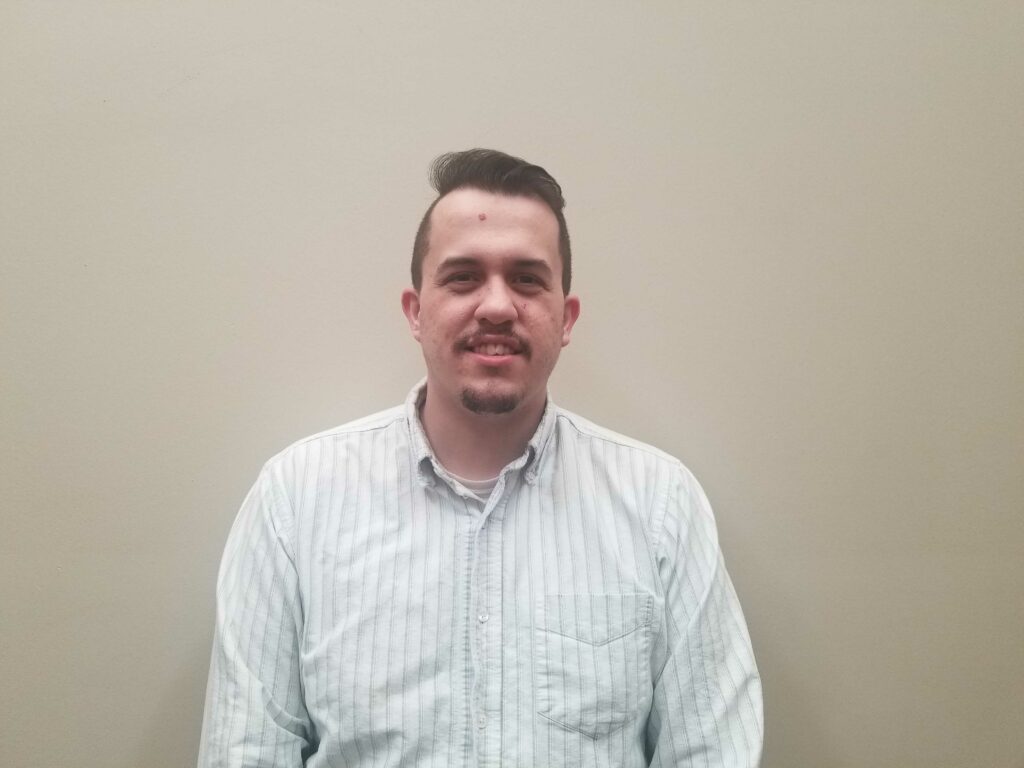 Isaac Cano is the Sites and Social Media Coordinator at Outreach Digital. He's been involved in church ministry for 12 years and is passionate about helping pastors and church leaders reach more people in their community