Is your community getting out and about again? Your church needs to be right out there with them! After a year of isolation, people are ready to engage with the community again. They are signing their kids up for sports again. They are taking vacations again. They are deciding where their places are and how to spend their time again.
As people thoughtfully re-emerge into community life again, how can churches build trust, so that they will choose us as one of their post-covid places? Here's how: love them then invite them. It starts with serving our communities, so they recognize us when they receive an invitation to come back to church.
Love Thy Neighborhood… Then Invite Them
The idea is "ministry then marketing." Here's how it works: If we could somehow meet the needs of our community while showing them who our churches really are, then we've warmed them up by building trust, and our invitations land in the hands of eager recipients.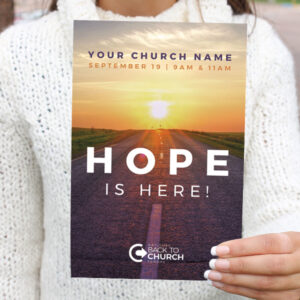 Churches have been using this idea successfully on social media over the past year by promoting prayer (and other targeted) Facebook ads, connecting with people digitally for prayer, then inviting them to church. The same "ministry then marketing" idea can be applied to the in-person experience, as well. It just takes a bit of planning, some volunteers, and a few intentional community outreach events to prepare people to be invited to Back to Church Sunday.
The wonderful thing about "ministry then marketing" is that personal connections are always more effective than blind invites. When people have a personal connection with a staff member, volunteer, or regular attender, they come through the church doors a lot less skeptical. They aren't looking for hiccups in the weekend services, chipping paint in the lobby, and other superficial problems. Guests who have a personal relationship with someone in your church are more likely to accept an invitation to church and receive the message without having their walls up.
So, if we want to have the highest response rate to our invitations, the softest hearts when visitors come into your church, and the greatest likelihood of retaining our guests, then your back to church efforts start way before September. It starts this summer with a few intentional community outreaches.
Here are Seven Outreach Ideas to Connect with Your Non-Churched Community Before Your Fall Launch:
Show your community that you care by sending volunteers in church t-shirts to local parks/beaches to clean up. Make sure to equip your volunteers with invite cards, so they can pass them out to anyone who asks about your church! Even if they don't have opportunities to invite people to church that day, the people who see them at your local beach/park may get a postcard invitation or social media ad inviting them to a Back to Church Sunday event or other fall kickoff. They will remember that they saw your church's volunteers doing ministry, and they'll be much more receptive to your marketing efforts.
Plan an evening of fun on your church campus or at a nearby park by bringing in a live band and inviting your community to picnic and relax together. Promote it on Facebook and through email, encouraging people to forward to their friends. This outdoor event is great for those who are still feeling unsure about getting out and about. Set up a photo booth with a volunteer photographer, and have people write down their contact information to get their photo emailed to them. Then, follow up with a personal email, text, or Bonjoro video to invite them to church.
Encourage your church members to host block parties at their homes this summer. Provide t-shirts that say "How Can I Pray for You?" to everyone who signs up to host a block party. Encourage them to minister to their neighbors by praying for them. Then, empower them to invite their neighbors to Back to Church Sunday by providing BTCS invite cards. This grass-roots ministry-then-marketing event will generate personally-invited guests for in-person or online services!
4) Elementary School Summer Spruce-Up
Adopt a local elementary school and have volunteer teams help spruce up their buildings, paint their walls, or pull weeds in planter beds before school starts. If your church meets in a school, this is already an organic partnership! If not, make a connection anyway. The teachers, administrators, and families are watching. They'll see your volunteers in their t-shirts, and they'll recognize your same logo when they get their Back to Church Sunday postcard in the mail!
5) Bring the Party to Back-to-School Night
Consider when your local schools' back to school nights are (and if they are before September 19th), and see if you can provide balloons, live music, or other party pieces to make it fun. Your volunteers in BTCS t-shirts can help direct traffic, answer questions, and just support the school staff. Just being present at local events shows that your church cares. This warms up your community for an invitation to BTCS!
6) Senior Center/Nursing Home Game Day
Partner with a local senior center or nursing home to plan a game day. Bring volunteers in church t-shirts with board games, cards, dominoes, balloons, and possibly food. At the end of the game day, have someone stand up front and invite people to one of your services. If you are at a nursing home, consider inviting them to join your church online services. See if you can teach a staff member or chaplain how to access your church's online service, so the seniors can watch.
7) School Supplies Giveaway
Collect donations of backpacks, pencils, pens, markers, crayons, and other school supplies for the first couple weeks in August. Then, promote a school supplies giveaway with flyers at your local libraries and schools and online. Host the giveaway on your church's campus, drive-through style if your community is concerned about COVID. Or, host it in-person and let children choose their backpacks and go from station to station adding supplies to their packs. At the end, collect their information and follow up with a personal phone call to invite these people to come on Sunday morning.
Whether you're getting dirty, sharing resources, or throwing the party, pre-Back-to-Church-Sunday events pave the way for your community to get excited when they receive an invitation to your church. Doing ministry then marketing has been extremely successful in recent months because our communities are thirsty for true connection, and they are using those connections when deciding where they will go and what they will do as they re-emerge into our world. This summer, a few intentional events can make all the difference in how your community responds to your church's fall outreach efforts. 
What can you do to connect now?