Over the last few years, many churches have gone to using digital outreach methods over the "old fashioned" postcard invitation. But now with COVID-19 forcing everyone online for months, digital fatigue is setting in and social media and email responses are not what they used to be. Now's a great time to reconsider and return to printed and mailed postcards as a way to connect, engage and invite. 
Here are 5 reasons your church should send a postcard this Christmas:
1) Reaches a Targeted Audience that Includes People Who Are Not Online
The U.S. Postal Service is the only organization that regularly delivers to EVERY occupied home in every neighborhood, so physical mail is the only guaranteed way to ensure your invitations reach everyone – even those people who are "low tech" and don't use social media or smart phones! No other medium can do that!  
Direct Mail postcards are also an effective way to reconnect with church members who may have stopped attending church. A recent Barna study showed that 1 in 3 practicing Christians have stopped attending church either in person or online during the pandemic.
So how do you reconnect with lost members? In a recent poll conducted by the USPS, 67% of respondents indicated they have felt more isolated during these times and that 62% of respondents agreed receiving a card or letter in the mail would make them feel more connected during these times of social distancing.
And with the variety of designs, the flexibility to customize the message, and the ability to upload your own church database list, direct mail postcards are the most versatile tool for reconnecting with lapsed members as well as reaching unchurched people in your community!
Officials at the Center for Disease Control (CDC) and the World Health Organization (WHO) maintain that mail and packages are completely safe and do not contribute to the spread of COVID-19. This means your neighbors should remain receptive to the direct mail you are sending them. And it's safer than trying to talk face-to-face.
3) It's Tangible and Memorable
The beauty of direct mail marketing is that there's less competition for people's attention and recipients are open — and in fact excited — to receive it. Due to the ongoing pandemic, 37% of consumers say they're more excited than before to receive their mail each day.
There's something to be said for getting a piece of mail. It's tactile, which can leave a lasting impression. The USPS says 98% of people check their mail daily and Americans spend upwards of 30 minutes with their mail on a single occasion.
And with the right message, you have a tremendous opportunity to engage people with a mailer. In fact, the average lifespan of a direct mail piece is 17 days – compared to 17 seconds for email! 
4) It Pairs Well with Other Outreach Efforts
While direct mail is a great avenue to reach households in your community, it is just one tool you should be using. Studies show that it takes up to 7 impressions (or touches) before a consumer responds to a message, so your outreach efforts need to span all the options.
And direct mail can easily complement other channels, including social media. In fact, a recent study showed that marketing efforts combining digital and direct mail increased website visits 68% of the time!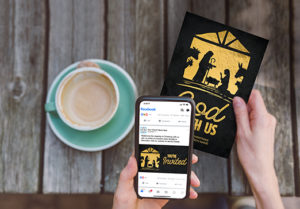 Services like Outreach Everywhere can help you easily pair your direct mail invitations with digital ads on Facebook and provide reports so you can track your results. Click here to learn more.
You might think direct mail is an expensive marketing channel, but you can manage direct mail marketing costs and reach more people much easier than you think.
First, partner with an expert in direct mail design for churches, like Outreach. An experienced direct mail company can ensure that your mail pieces are designed with USPS regulations in mind so that you can get the lowest postage rates available. Outreach also has a team of professional designers that can provide you with a postcard that is attractive and easy to read. 
Second, spend some time thinking through the neighborhoods and people you want to receive your postcard. In many situations, blanketing neighborhoods closer to your church is a very cost effective move. You can take advantage of carrier-route saturation mail rates and reach every home. 
But if your event or message is specific to a certain audience, you may save money by only mailing to certain homes based on their demographics. The postage may be higher, but you will not be wasting money sending cards to people who aren't receptive to your message. An Outreach Specialist can help walk you through this decision and advise you on the best plan for your church.
Finally, remember that the squeaky wheel gets the grease, and the same may be true for your direct mail marketing efforts. Sending multiple mailings each year is a great way to keep your church at the front of the minds of people in your community. They may not respond to your first postcard, but often changed circumstances will cause someone to respond to the second or third message. We have heard many stories of postcards that were tacked up to bulletin boards, or shoved in a drawer only to have someone bring it to church several months later. 
Want more information on using direct mail for your church? Call us at 800-991-6011 for a free consultation with an Outreach Specialist.