This time of year can be a little crazy in a NORMAL year, but then 2020 comes along and the normal holiday stress now includes having a virtual Christmas-eve service and not being able to celebrate in person with extended family and friends!
And everyone is tired.
But ministry does not stop. In fact, these days your community needs your church even more than ever. You can offer hope  – real hope – for the new year. And we are here to help. Here are two new ideas and a few resources to help you start 2021 on a good path that won't leave you exhausted.
Plan a Powerful Sermon Series & See Christmas Visitors Return
January is a great time of year to launch a compelling sermon series. It's a natural bridge between Christmas and Easter enabling you to invite your Christmas visitors back to church in January and engaging them in your church for several weeks leading up to Easter.
This year there are some great new series that will not only connect visitors but will also increase the spiritual growth of your attenders as well.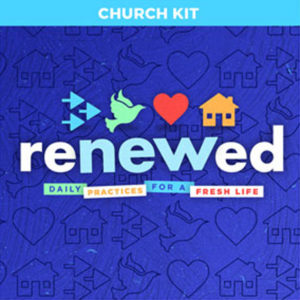 The new Renewed four-week series is written to help people in your church and community do more than survive life but instead to have the abundant life God wants for all of us!
The four sermons are designed to resonate this time of year with topics on felt needs like:
Renewed Spirit

Renewed Purpose

Renewed Love

Renewed Community
The digital kit includes sermons, videos, graphics for your website and social pages and slide templates, just download and customize to fit your style and make it your own!  The best part is that all of the included resources are licensed to be used in person or online!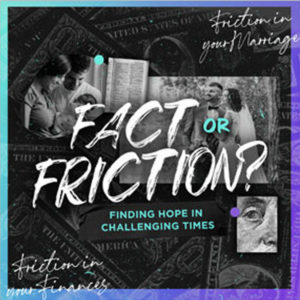 2020 was a pretty stressful year and spending more time at home with our loved ones can make relationships more strained. That is where this relevant series can attract families.
This four-week series is perfect for the challenging times we live in with sermons on friction in families, marriage,  finances and faith. And again, all the resources can be instantly downloaded so you can get started planning right away and they can be used online or in person!
Click here to watch a preview video about this kit. 
Make Your Church a Safe Place to Be in Person
Churches that are meeting in person are seeing low attendance numbers, people are just nervous. And no matter the statistics in your area or how many people are being vaccinated, there is going to be some trepidation when it comes to returning to in person gatherings. As a church leader, your best strategy is to make your building as safe as you can and then communicate clearly about those steps.
Get the Tools You Need to Keep People Safe.
Just like any business that is open to the public, your church should encourage the use of masks and sanitizer – and you should provide both for your visitors to use.  As a courtesy to visitors and your staff, keep a supply of inexpensive disposable masks for adults and children so that people who forget their own, have a resource.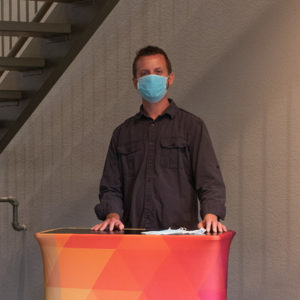 Provide sanitizer and touchless dispensers in key areas around your church; by entrance and exit doors, outside the worship center, by the restrooms and near children's areas.
Finally, anytime you have groups of people gathering there are going to be germs and not just COVID. Investing in an
EPA-approved disinfectant
and spray applicator that you can use between services, is a huge step toward making sure your staff, volunteers and congregation are as safe as they can be. To learn more about how these types of disinfectant works, watch this informational video.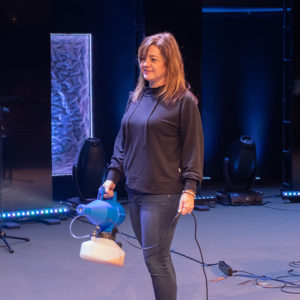 Remember the old adage, "people don't care what you know until they know you care"? This especially holds true today.  We would all like to be able to concentrate on sharing God's love and truth, but if people don't know that you are first concerned with their health and well being, you won't have the opportunity to share the Gospel. So once you have a plan in place to keep your community safe, you need to tell people about it.  It doesn't have to be complicated, just simple messaging, signage and reminders will cover it.
On your website – include a COVID-19 protocols message so visitors can see what you are taking precautions. 

Outside your building – reminder signs about wearing a facemask or maintaining social distancing help people know your policies before they enter your building.

Greeters and Staff – make sure they are in compliance with masks. Also, use friendly Handheld greeting signs to welcome guests so no one is tempted to shake hands. 

Inside your building – indoor banners, floor stickers and other signage can guide visitors to follow set traffic patterns, use sanitizer, and sit apart from others. Another great tool is a banner that lets people know that you are using a disinfectant between services to keep them safer.
Invite Visitors to Attend
Finally, reach out to your community and invite them to return to Church – but give them options. Maintaining your online services is important while people adjust to meeting in person again. But no one will come or watch if you don't invite them to be part of your community.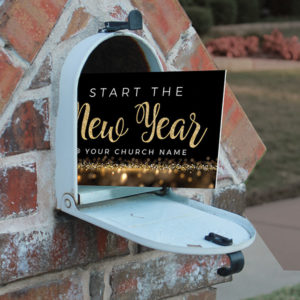 Send a New Year's postcard invitation to homes around your church. Make sure it includes details about your sermon series, how to watch online or attend in person and provides an online link they can use to learn more. Postcards are a fast, effective way to grab attention in a digitally-weary world and they have staying power, so even if you don't see numbers go up the first week, you may in the coming months as people feel more and more comfortable going out.
With a little investment, your church can see a brighter 2021 – Happy New Year!