When people in your community search for a new church to visit, will they find yours? If they do, there's a good chance it will be through your church website.
This means your website needs to be easy to find when people search for it through a search engine, but how do you say "visit our church website" without being pushy? One of the best ways to do this is by indexing your site through Google My Business. Don't be thrown off by the word "business" — as long as you have a physical location, Google can list your church.
Having a church website that is easy to find is not enough, though — every part of your website needs to be thoughtfully designed to meet the needs of new visitors. Think of your website as your church's front porch. If it's inviting, people will want to step through the door to discover what's inside. Just like you'd add a fresh coat of paint to your front door or regularly sweep the porch steps, it's important to regularly update and polish your website. Here's what you can do to get your church website ready for visitors:
Make it mobile friendly
First things first — your website needs to be mobile-friendly. A mobile-friendly site lets someone easily view your website content no matter what type of device they're searching from. Why is this important?
More than half of all web traffic comes from mobile or tablets. That's a LOT of searching happening from phones, and according to Google, a potential visitor viewing your site on their phone is five times more likely to leave if the site isn't easy to use!
Most potential new visitors are checking out your church website before they ever step foot in your building, and odds are they're searching for you on a mobile device. Make sure they can find what they need, no matter where they're searching from.
Create a welcoming design
If your website serves as your church's digital front porch, it's important to make it as welcoming as possible. How? Start by taking a close look at your homepage. Is the design clean and simple or cluttered and chaotic?
More than any other page on your site, the homepage should be geared toward potential new church visitors. It can be tempting to load your homepage with every bit of information you think a new visitor might need, but that approach isn't doing your church any favors. You don't want to overwhelm new visitors with too much information. The goal is to give them a clear picture of what they can expect when they visit your church!
Check out the image of the homepage above. The clean design lets a visitor focus on the clear message of welcome and the headline statement that invites them in. The navigation bar at the top has just enough tabs to show a new visitor what they need to know about visiting for the first time.
Take a quick look at your church website. Where can you clean up your design to make it more visitor friendly?
Keep your content current
Keeping your church website content current is important, but that doesn't mean you should add every event to your homepage. Remember, clean and simple is the goal!
Basically, don't have Christmas content on your website when you're ramping up for Easter. It seems like a no-brainer, but we see a lot of churches doing this! Your site should serve as a showcase for what visitors can expect from you. This might mean highlighting a current or upcoming sermon series, but it definitely doesn't mean adding photos and tabs for every single activity or event at your church.
If you feel pressure from people in your congregation to fill your website with too much content, try explaining to them that you really want your church website to be a place where new visitors can get a clear, welcoming picture of your church. Chances are that once they understand they'll support you!
So, how do you keep your site current? The best way is to make sure you have a designated member of your church who is responsible for the website. This may be a volunteer, your superstar church secretary, or even you! Give this person guidelines and goals for the environment you want to create online, then set up a weekly calendar reminder to check in on your website. You can delete or archive old content and add anything new.
Cover the basics
Some sections of your church website will rarely need to change. If you take the time upfront to make sure they look good and have the right information, you'll make it easy for new visitors to find what they need before they visit. Here are three must-have pieces of information that should be on your homepage:
Service start and end times. These let visitors know when to arrive and how long they can expect to stay.
Church address. People can't visit your church if they don't know where to find you!
Contact information. A phone number and email address let people know how they can get in touch with you.
It's also great to have a page just for new visitors. A tab on your homepage titled "New Here?" or "What to Expect" invites visitors to click. The page should tell them everything they need to know about attending your church for the first time — include information about what to wear, where to park, where to go in the building, and childcare options. This page could also link to an archive of prior sermons so visitors have the chance to experience your teaching style before they visit.
Make your media matter
The design of your church website plays a huge part in a visitor's first impression of your church. If hiring a web designer isn't in your budget, using a church website template is a cost-effective way to have a cohesive design throughout your site.
Good photography is key. If your church has the budget, hire a photographer to come to your church once or twice a year and photograph Sunday services. High-quality images give visitors a glimpse into your church and lend a sense of authenticity that you can't get with stock photos.
However, if professional photography isn't in your church budget, there are some great resources for stock photos. Be careful, though — cheesy stock images can make it look like you don't care enough to represent your church well. If you must use stock photos, check out websites like Unsplash (free) or Lightstock (paid, Christian-specific) for access to thousands of beautiful images.
We mentioned earlier that having sermon videos on your site is a great way to connect with potential new visitors and give them a taste of what to expect when they visit. It also lets regular attendees keep up with a sermon series if they have to miss a Sunday. Not ready to film your services every Sunday? You can always offer audio clips of your sermon or set up a podcast.
Tell them who you are
New visitors want to connect with you before they make their first visit. Your church website is the place to show them the "who" behind your church. Have a "Staff" page that includes a photo and the job title of each of your church's staff members (bonus points for a short bio). This way your faces will already seem friendly and familiar when a new visitor comes to your church!
You can also have a "Beliefs" section that includes your statement of faith and core values. This will help visitors better understand your church and what they can expect from your leadership.
Offer ways to connect
Have a place on your site to show potential visitors how they can fit into regular life with your church. This could be a "Connect" tab on your navigation bar that has a drop-down menu listing different ministries (think youth, men's, women's, etc.). Pages for small group signup, church volunteering, and community involvement/missions are also great ideas. Write a short description for each, include a relevant photo or video if you have one, and list any information a visitor might need to get involved.
Show up on social media
Did you know that 68% of U.S. adults use Facebook? If your church isn't already on Facebook, you're missing out on a great way to connect with your community! Getting a Facebook page set up is simple and a great way to establish your church's social media presence. Once you're feeling good on Facebook, think about adding in other social media platforms (Instagram and Snapchat are a great way to connect with your church's younger demographic).
You can add social media buttons or plugins to your church website to make it easy for visitors to find your social media profiles. A lot of life is experienced outside of your weekend services, and social media is the perfect tool to help build a sense of community and connection that extends beyond the walls of your church.
Conclusion
Let this post serve as a handy checklist for getting your church website ready for visitors. Even if you can't check everything off all at once, keep working at it! Before you know it, you'll have a welcoming website that invites new visitors in and shows them just how they can connect with you — online, and in person.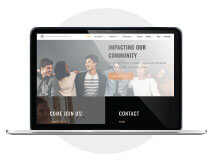 Outreach Sites makes building and managing a website easy with features and templates designed just for churches.